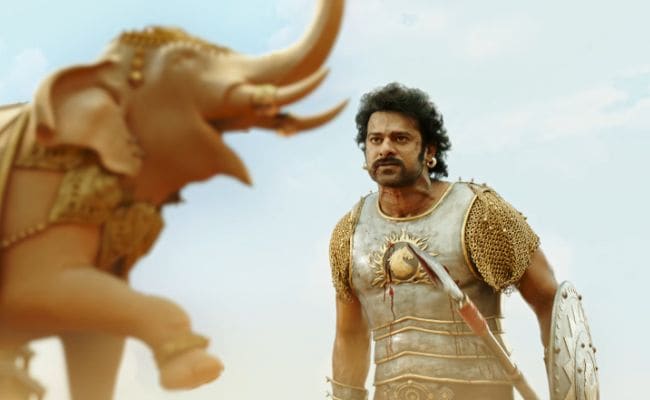 NEW DELHI:
After waiting for two years to find out why Katappa killed Baahubali, fans of SS Rajamouli's magnum opus can finally get some closure.
Baahubali 2: The Conclusion
, starring actors Prabhas, Rana Daggubati, Anushka Shetty, Sathyaraj, Tamannaah Bhatia and Ramya Krishnan, finally hit 8,000 screens across the world. With the film's early morning shows, starting as early as 7:30 am, Twitter is buzzing with heaps of praise for the film. Fans have been tweeting with #Bahubali2 making the hashtag trend on Twitter.
The film opened to a grand release earlier this morning with fans queuing for miles outside theatres to watch the much-awaited film. The
Baahubali 2-fever has been so high
in places like Hyderabad, people celebrated the release by pouring milk on life-sized cutouts of the film's star Prabhas - much the same way fans celebrate a Rajinikanth film.
The fantasy drama is the second part to
Baahubali: The Beginning
released in 2015. The film was a huge success and ended in a cliffhanger which subsequently became a huge phenomenon on social media. Jokes and memes on 'why Katappa killed Baahubali?' became extremely popular online. Now, along with words of praise for the second and final installment of the films, tweeple are also requesting everyone who has seen the film to not share any spoilers online.
Here's what Twitter has to say about
Baahubali 2
:
It's not blockbuster it's a Baaahubalian Hit. Unlimited goosebumps and unlimited repeat value. Hero of hero's @ssrajamouli#Baahubali2

- Siva Sankar Reddy (@sankar485) April 27, 2017
Watching #Bahubali2.. Interval.. S-T-U-P-E-N-D-O-U-S !!

- Amod Mehra (@MehraAmod) April 28, 2017
When your friend doesn't reveals why katappa killed bahubali #Bahubali2pic.twitter.com/QGYwIEc0aC

- Appy (@Appsfizz) April 28, 2017
Valmiki created Ramayanam,
Vyasa created Mahabaratham,@ssrajamouli Rajamouli created #Baahubali2
Proud to be a fan of #Prabhas

- sampathkumar (@Imsampathkumar) April 28, 2017
#Baahubali2 10 times better than baahubali1 ..prabhas steals show all the way !!

- SUNNY REDDY (@SUNNYNANNURI) April 27, 2017
RIP Katappa Baahubali jokes

Mystery Unfolds #Baahubali2#Today@BaahubaliMovie#Prabhas@ssrajamouli Most awaited film of 2017

- Alekshendra Sharma (@Alekshendra619) April 28, 2017
#Baahubali2 fever grips Hyderabad. Will it breach Rs 1000cr mark? Depends on the much-awaited answer to *Q of the Year* Why Kattappa... ..

- Basant Singh (@SinghBasant) April 28, 2017
The effects are top notch & the story is classic. A must see for any film fans. The Best film of 2017, Best movie ever made! #Baahubali2

- Divya (@dipziebaby) April 28, 2017
Along wth interval , post and pre elevations elevations of it are still haunting take a bow @ssrajamouli garu #Baahubali2

- Thej (@Itsme_Thej) April 28, 2017
first half just superb interval scene mind boggling #baahubali2#prabhas#ranadaggubati@ssrajamouli

- kamlesh nand (@vivetsencillo) April 28, 2017
People can finally sleep in peace, now that they know why Katappa killed Baahubali.#suchburningquestions



:3- rashmi kundu (@thesimplebong) April 28, 2017
#Baahubali2 is bigger than a Bockbuster... superb emotional n goosebumps hats off to @ssrajamouli garu.. congrats whole team

- Gopichand Malineni (@megopichand) April 27, 2017
Snapchat CEO should check Bahubali 2 ticket prices to know how rich we Indians are#BahubaliTheConclusion

- karan sheth (@krn_seth) April 27, 2017
First half : super
Second half :avg #BahubaliTheConclusion routine revenge story with good war scenes and screenplay music

- J M Rajashekar (@JMraj4) April 28, 2017
Packed audience.
An amazing first half from SS.
Stupendous performance from all the lead actors.#BahubaliTheConclusion#Bahubali2pic.twitter.com/QeFJz5ptfp

- Allan J (@AJ_13994) April 28, 2017
April 28, 2017
Baahubali 2
has released in several languages including Telugu, Tamil, Hindi and more. It is said to be the year's biggest film. It comes as no surprise then that several
fans have taken half day off
at work to watch the film on the first day itself. "Convinced our bosses 20 days earlier. We will work 30 minutes extra every day and make up. But you have to let us watch it on the day of release," fans outside Mumbai theatres told NDTV.
Are you planning to watch
Baahubali 2: The Conclusion
this weekend? Tell us using the comments section below.
Click here
for more trending stories