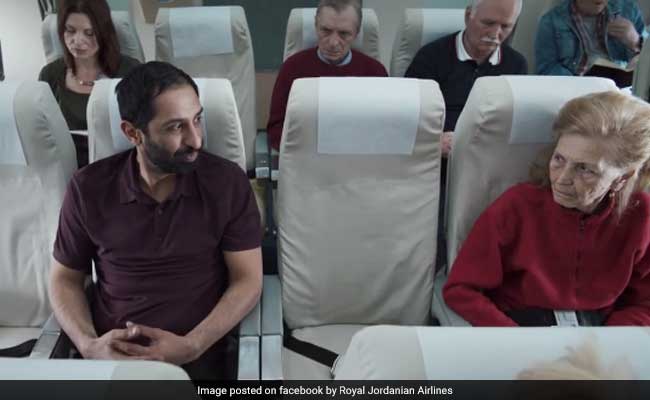 New Delhi:
Airlines have been in the news for all the wrong reasons recently, but Royal Jordanian Airlines is now making headlines for all the right ones. With the caption, "Are you afraid of flying," the airlines' powerful new ad addresses discrimination in a surprisingly thoughtful way. The ad, a little over a minute long, has already been viewed over 1.8 million times on Facebook, and received an overwhelmingly positive response.
The ad begins as people board a flight - the concerned looks on their faces suggests that something may be wrong. Several of the passengers glare into the camera, which pans across the aircraft. "I'm not afraid of flying," narrates a man. "I'm not afraid of the risk of it."
"I'm afraid I end up somewhere I don't want to go. Afraid of being stuck in a place with people who look at me differently. I'm afraid of the 'what ifs.' What if something wrong happens, and they don't believe me? What if they don't ask and just act on their fear?"
As the tension builds, the source of the passengers' concern is finally revealed.
Watch the video below to find out what happens:
"I'm not afraid of flying. But the people around me are afraid of
me
," the bearded passenger concludes. "People who are afraid, discriminate. Those discriminated against - they're even more afraid."
The ad leaves viewers with a powerful final message: "Don't be afraid to say no to discrimination."
Since April 27, the video has been shared over 8,200 times on Facebook and collected over 24,000 reactions.
@RoyalJordanian Thank you, Royal Jordanian, for this excellent reminder. I am fearless, but many are not.

— Rob Britton (@PlanelySpeaking) April 29, 2017
Royal Jordanian Airlines previously mocked US President Donald Trump's
proposed "Muslim ban,"
the
electronics ban
on certain US and UK-bound flights as well as the
United Airlines controversy
with clever ads on their social media platforms.
@RoyalJordanian Great job RJ! You guys have been on a roll lately, pls don't stop

— francesca (@fransawalha) May 4, 2017
Click
here for more trending stories
.