New Delhi:
Fast-food chain McDonald's is using Snapchat to hire new employees in Australia. The company is asking job applicants to "snap" them a 10-second video using a filter that shows them wearing a McDonald's uniform - crew badge and hat included. The videos, called "Snaplications" by McDonald's, will be considered the first round of the interview process. The company will then review all the "snaps" and send digital applications to potential employees who move on to the next round in the selection process.
"For most young people who apply for a role with Macca's (as McDonald's is known in Australia), this is their first entry into the workforce," says McDonald's Australia chief operating officer Shaun Ruming in a
statement
. "As such, their personality, positive attitude and enthusiasm are characteristics that are focused on and traits that this tech innovation captures in a simple, yet effective manner."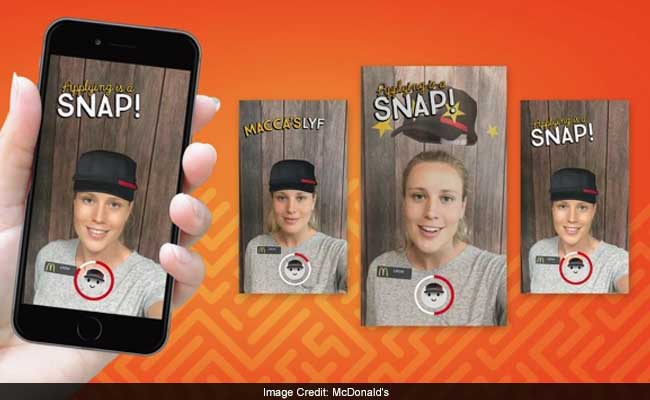 "I've learnt a lot about Snapchat recently from my 14-year-old daughter," Mr Ruming tells the Australian news website
news.com.au
.
"We're looking for that positivity, bubbly personality, someone we think would be good in a customer service role. Based on (the snaps) my daughter sends to her friends, you do get a bit of a glimpse."
"We're the largest employer of youth in the country, so we're trying to look for new and innovative ways to recruit crew people," he says. 65 per cent of McDonald's Australia's 106,000 employees are under the age of 18.
Snapchat is a smartphone application that allows users to send picture or video messages that disappear after the recipient views them. Snapchat has over four million daily users in Australia, 82 per cent of whom are young people.
Click
here for more trending stories
.
For the latest News & Live Updates on Election Results from each assembly constituency in Madhya Pradesh, Rajasthan, Mizoram, Chhattisgarh, Telangana, like us on Facebook or follow us on Twitter for updates.