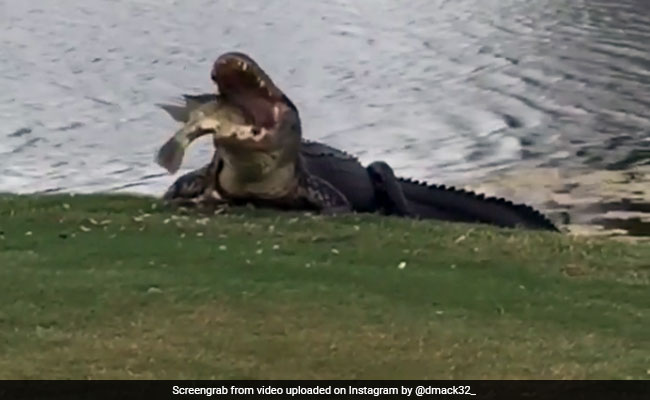 New Delhi:
A video that's now viral captures the moment an enormous alligator feasts on a large fish on a golf course in Florida. David Mack posted a video on Instagram showing the alligator chomping down on the fish with its razor-sharp teeth. The video was shot at the Sandhill Crane Golf Club in Palm Beach Gardens and uploaded on Instagram on May 13.
"Get your picture and get out of here, David," a man, reportedly Mr Mack's father, can be heard saying in the background.
"Dad was not impressed with my National Geographic skills," Mr Mack writes in a caption on Instagram.
Mr Mack tells
Palm Beach Post
he was playing a round of golf with his father when they heard the gator make his catch at the ninth hole.
"We heard a splash and looked down, and the gator had the fish," he says.
Mr Mack claims he was about eight feet from the alligator when he shot the video. The alligator, which can be seen on the putting green close to a lake, was between eight and 10 feet long, he estimates.
Barstool Sports
re-posted the video to its own Instagram account, where it has been viewed over 1.2 million times in nearly two days.
"Forget the gator, if there's fish that size at golf courses let's go fishing," writes one person on Instagram.
"Steve Irwin would say 'What a beautiful sight. It's the circle of life, mate,'" writes another.
It's probably safe to assume that
alligators
have a thing for
Florida golf courses
.Click for more
trending news