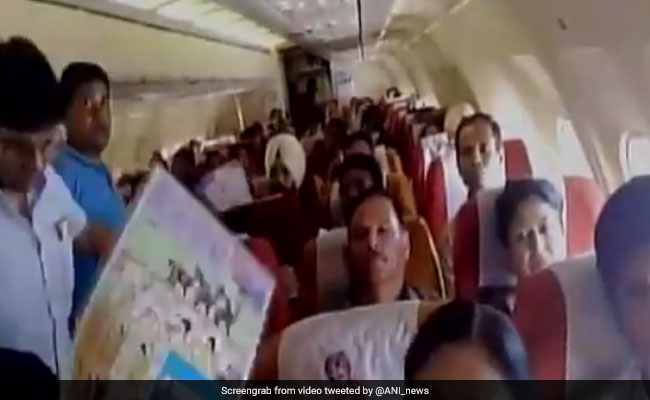 New Delhi:
The air conditioning system of a Delhi-bound Air India flight from West Bengal's Bagdogra malfunctioned on Sunday, leading to noisy protests from passengers. The flight, AI-880, had 168 passengers on board and made a safe landing in the capital. According to reports, when contacted, Air India said that it was a technical matter and an investigation would be initiated.
A video posted to Twitter by news agency ANI shows passengers furiously fanning themselves using in-flight magazines and aircraft safety cards. One of the passengers can even be heard saying in Hindi that he was asked by flight attendants not to film the angry scenes unfolding inside the aircraft.
#WATCH Air India Delhi-Bagdogra flight took off with faulty AC system, passengers protested complaining of suffocation pic.twitter.com/3nibvSrb1E

— ANI (@ANI_news) July 3, 2017
One passenger, Debasmita, took to Twitter to complain about the air conditioning problem on the flight, writing she had also lodged a complaint in New Delhi:
@airindiain AI 880 the AC & oxygen mask (only one)was not working from IXB though the captain did nothing.Lodged a complain at DEL .

— Debasmita (@Debasmita076) July 2, 2017
@airindiain AR 880 started from IXB without AC and oxygen.Who give the permission to put 310 passengers life in risk?

— Debasmita (@Debasmita076) July 2, 2017
Cabin crew Ms.Gole has pointed some passengers as 'stupid'.i guess we are,because we booked our ticket in @airindiain

— Debasmita (@Debasmita076) July 2, 2017
An Air India spokesperson admitted to news agency PTI that the passengers had indeed complained of the malfunctioning air conditioning system on board the aircraft and they also protested.
The flight took off at 1.55 pm on Sunday. Around 20 minutes after departure, passengers complained about the AC malfunctioning. They were reportedly assured by cabin crew that the AC would be back on after some time, but that didn't happen.
A few passengers also tried to put on the oxygen masks, but these too were reportedly not working.
The embarrassment comes after the government decided on Wednesday to
privatise debt-laden Air India
.
(With inputs from agencies)
Click for more
trending news