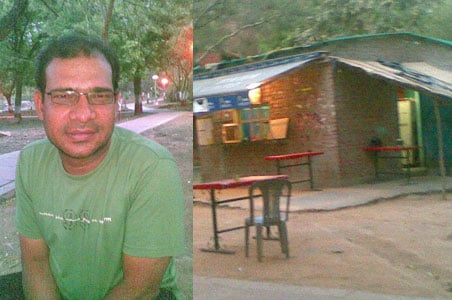 New Delhi:
What would you do if you had a doctorate degree from Jawaharlal Nehru University? Go abroad? Apply for lectureship? How about opening a dhaba? Well, it may sound weird, but an ex-student has done that.
A PhD holder in Urdu language from JNU, Mohd Shahzad Ibrahimi, better known as Mamu among his friend and colleagues, is running a restaurant in the university campus. And Mamu's dhaba is a great success.
A resident of Sheikhpura in Bihar, Shahzad came to Delhi in 1993. After doing his graduation from Patna his friends told him about the prestigious university and Ibrahimi thought about giving it a try.
"There was no such environment to continue studies in Patna. And I wanted to study more. So when my friends suggested me about JNU, I decided to apply for it," he said.
An avid lover of cultural activities, Ibrahimi soon made a mark among his fellow students and teachers in the university. Everyone started loving him. Apart from Urdu language, he took admission in Mass Communication course.
The campus environment made him feel like home. He married a girl from Delhi University while studying in JNU.
After completing his course, Ibrahimi got a job in a media house in Hyderabad. But soon he realised that a fixed duty is not meant for him. Though he gave his 100 per cent, too much and time-bound work was taking its toll on him.
"I have always been an open-minded person. And I love to do work which I like. If someone forces me to do something, I can't do that. So, I quit the media job," Ibrahimi said. And luck didn't favour him in getting a job after that.
Unemployed and having a family to feed, Ibrahimi had to do something quickly. So, he decided to open a dhaba.
"I always had an interest in cooking, and I knew that I could do well. But everyone in the university was furious, especially the teachers. They said 'are you mad? A PhD holder opening a dhaba will affect the university's image'. But I was determined and I convinced them that I will not ruin JNU's name."
It was not an easy going for Ibrahimi. After much deliberation with the university officials, he got the permit to run the JNU canteen. "They said if you are able to run the canteen for six months, we'll give what you want."
And Ibrahimi did it. After he took over the university cafeteria, the number of foot falls increased. The officials had to accept his plea and they gave him a place within the campus to run his own cafeteria. But winning over JNU authorities wasn't the only battle he fought.
"My family in Bihar was enraged by the fact that after doing my PhD, I am running a dhaba. My parents stopped talking to me. The only support I got was from my brother. But slowly, things started looking up and everything was back to normal. My parents even visited my cafeteria and were happy to see my business," Ibrahimi said.
Slowly, the business started flourishing and Mamu became the buzzword of the campus. The cafeteria was Ibrahimi's laboratory where he experimented with different dishes and made notes 'like chapters of a book'. And being in the university for so many years, student politics was not a problem for him.
But those were early years. As his family grew and time changed, there was a need to expand the business and do something more.
"I am not against doing a job, especially when I have a family. But everyone knows that finding a job these days is not easy. I have realised the fact and I am working towards opening a new and bigger restaurant outside the JNU campus. I am also writing a recipe book titled '365 days', which is based on my experiments with food. I hope these ventures become a reality soon," Ibrahimi further added.