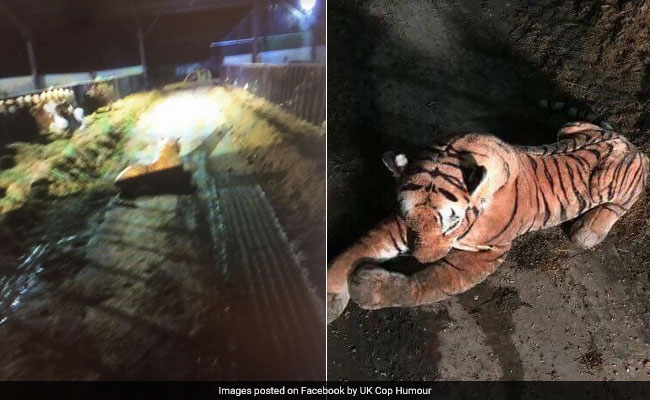 A team of police officers from North East Police Division in Scotland's Aberdeenshire had a "roaring shift" on Saturday night.
Late Saturday evening, police received a nervous phone call from an "extremely concerned" citizen. The man had spotted a wild animal on his farm, police said. To be precise, a big tiger.
Reacting to the alarming call, cops rushed several vehicles, including an armed response team, to the farm at Hatton, reports
BBC
. They also called a wildlife park in the vicinity to check if they had an escapee.
On reaching the farm and engaging in a 45-minute 'standoff', the cops realised that the tiger was actually just a huge stuffed toy.
Pictures posted on the Facebook page 'UK Cop Humor' show photographs of the said stuffed tiger at the farm.
The post has made a lot of people laugh out loud and collected over 1,000 shares since it was posted on February 5.
The North East Police Division said in their
Facebook post
that it was a 'false call' made with 'genuine good intent' and not as a prank.
"Unusual as the call may have seemed, any call reporting a potential danger to the public has to be taken seriously and efforts were made to verify the sighting as soon as possible, including starting to make contact with the nearest wildlife park to make sure they did not have an escapee," said Inspector George Cordiner.
Click for more
trending news