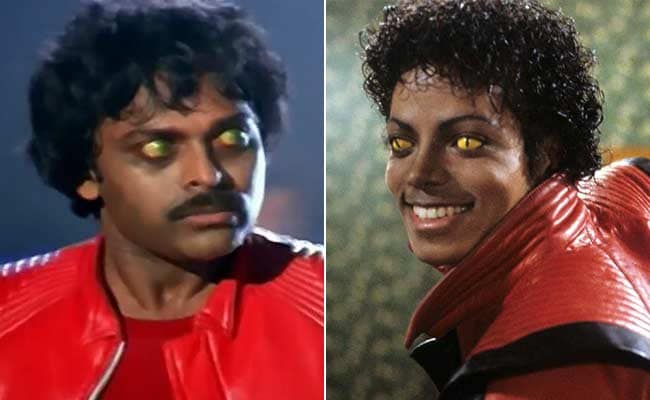 With all due respect to the late great MJ, he might have had some trouble equaling Telugu superstar Chiranjeevi's
Goli Maar
from the film
Donga
(1985). This Indian 'Killer' is quite possibly the best Michael Jackson-inspired video since the elaborately filmed Thriller left us dazed and amazed. Dressed as MJ was in a shiny red-hot leather jacket and matching pants with zombie-style make up, a crowd of back up zombie dancers, and a damsel in distress, Chiru's version is all kinds of perfect.
For those of you who have never watched this before, here are some uber cool scenes from our very own
desi
version of the Thriller which will change the world as you know it forever. In fact the world as you know it will end, and you will wonder how you ever managed to live without this to cheer you up.
1. This back-up zombie dancer is rising from the grave with so much swag, that he'll immediately gets a spot in the Best Zombie Club.
2. This angry head turn from zombie-fied Chiru proves that he was the real inspiration behind the back-to-back zoom-in shots from the K-serials.
3. This PT-like step is just awesomesauce. And no, there is no other way to describe it. Topic over.
4. Not even MJ could have carried off this step that's 50 shades of magnificent.
It is an established fact that megastar Chiranjeevi is awesome, but this has put a non-debatable stamp on that. Watch Goli Maar here and have your mind blown away: