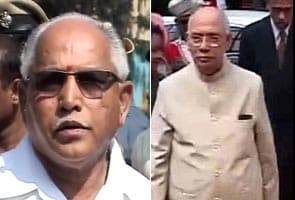 Bangalore:
Threatening to intensify the already-raging row, Karnataka Governor H R Bharadwaj reiterated that he will decide by the next couple of days, on the issue of sanctioning prosecution of Chief Minister Yeddyurappa over allegations of land scams in the state.
He told media persons on the sidelines of a book launch in Bangalore that it is his right to examine the case when he has been formally approached.
"Land scams have been discussed for more than two months in the print media. I had not raised any objection on this issue myself. After that, these people said (they will hand it over to a) commission. And then they said the case will be given to the Lokayukta. So what's new? All of you are aware. But when the matter has come to me in writing - it's then my right to examine. I will announce a decision in 1-2 days", said Bhardwaj.
The Karnataka cabinet had on Wednesday passed a unanimous resolution asking the Governor to drop his move to sanction Chief Minister Yeddyurappa's prosecution.
The resolution claimed that Bhardwaj should not grant the sanction to prosecute Yeddyurappa as the charges were being probed by the Lok Ayukta and the judicial commission headed by B Padmaraja, a retired judge of the Karnataka High Court.
Yeddyurappa, the BJP's first chief minister south of the Vindhyas, is facing charges of favouring his sons, daughter, son-in-law, sister, her daughter and son-in-law with prime residential and commercial land in and around Bangalore.
Yeddyurappa has since made his kin surrender the land and appointed the Padmaraja commission to probe into land allotment from 1995 to November 2010.
The period covers the rule of six chief ministers, including Yeddyurappa who took over in May 2008.