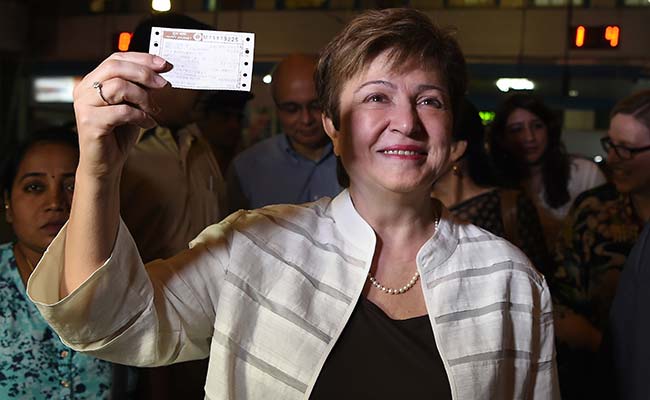 Mumbai:
World Bank's chief executive Kristalina Georgieva travelled in the second class women's only compartment of a Western Railway suburban train from the busy stations of Churchgate to Dadar in Mumbai to experience the city's popular transportation service, officials said. She was joined by the CMD of Mumbai Rail Vikas Corp Prabhat Sahai and World Bank's India director Junaid Ahmed, who boarded an adjacent second-class compartment.
The economist boarded the train around 11 am after taking a short tour of the iconic Churchgate station along with 20 other officials. Dr Georgieva was seen talking to other commuters about various aspects of Mumbai's local trains and concomitant issues. The city's suburban services ferries over eight million commuters daily on its three networks.
"To be part of this incredible commute that happens every day and to know what we fund from the World Bank is helping people here to have a more enjoyable journey," she told the media when asked about the purpose of her journey.
"I want to hear from people - what works, what doesn't work, what we need to improve, so that we can actually do it," the economist added.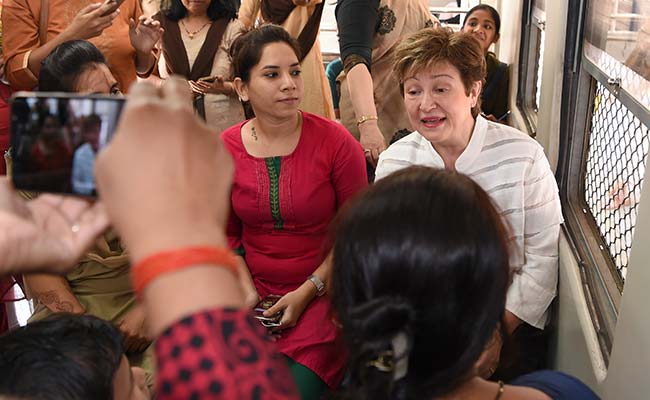 Commuters also took selfies and images with the World Bank chief executive - in the train and on the platform.
Dr Georgieva was also briefed about the status and progress of various World Bank-funded railway infrastructure projects in Mumbai and its surroundings at the MRVC headquarters. She later proceeded for other site visits organised by the Mumbai Metropolitan Region Development Authority, including a school catering to slum dwellers and children with special needs.
The World Bank chief executive is also expected to meet Reserve Bank of India Governor Dr Urjit Patel and Chief Minister of Maharashtra Devendra Fadnavis in the the country's financial capital. She will also meet policy makers and senior officials in New Delhi.
(with inputs from Agencies)