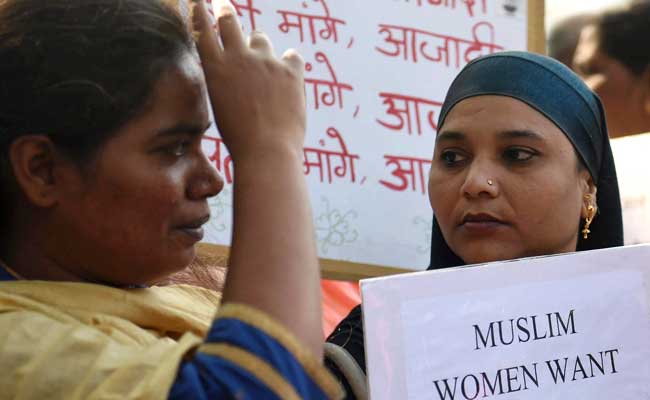 Mumbai:
Days after 500 women activists attempted to enter the Shani Shingnapur temple in Maharashtra's Ahmednagar, similar scenes of protest were witnessed some 250 km away at Mumbai's Haji Ali Dargah.
Like the Hindu women in Ahmednagar, the Muslim women in Mumbai are demanding that they be allowed to pray in the sanctum of the famous shrine.
"Women are allowed to enter dargahs and mosques. Prophet Mohammed had also recommended that people should go to graveyards so as to understand that one day they will also die and this is where they will lie. The other message he had was that people should pray for the soul of the departed," said Islamic Studies scholar Dr Zeenat Shaukat Ali addressing around 100 women gathered at the Azad Maidan Grounds in Mumbai.
Islam gives women equality, Dr Ali asserted in her speech, surrounded by protesters raising slogans and holding up banners.
Clerics Umer Ahmed Iliyasi, however, said the demand is "un-Islamic."
"Women can pray in their homes, but Islam does not allow them entry especially in graveyards and dargahs," Umer Ahmed Iliyasi said.
After the Shani temple protest, Maharashtra Chief Minister Devendra Fadnavis said women have an equal right to pray. "Indian culture and Hindu religion gives women the right to pray. A change in yesterday's traditions is our culture. Discrimination in praying is not in our culture. The temple authorities should resolve the issue through a dialogue." he had tweeted.
Unlike the centuries-old ban on women at the Shani temple, women were banned from entering the sanctum of the Mumbai Dargah by the Haji Ali Trust in 2011. They claimed it was also for their own safety as number of devotees had swelled.
The Bombay High Court is hearing a public interest litigation challenging that ban and said earlier this month that it would wait for a Supreme Court ruling on the entry on women in the Sabarimala temple in Kerala, before deciding on the Haji Ali plea.
In the Supreme Court, a petition has sought entry for all women and girls in the Sabarimala temple which, as a practice, does not allow girls after attaining puberty to enter the premises. The temple, however, allows only those women to enter who have reached menopause.