Highlights
At MNS-organised event in Thane, "dahi handi" strung up at 49 feet
Supreme Court has said height of handi should be no more than 20 feet
T-shirt of MNS activist reads "I will break the law" in Marathi
Thane:
A police case has been filed against Avinash Yadav and and 16 groups that defied Supreme Court orders during the
dahi handi
celebrations in Thane.
Mr Jadhav, who was sporting a message on his T-shirt -- "I will break the law" written in Marathi -- has been booked under the charge of attempt to culpable homicide, endangering life and personal safety of others and other sections.
The groups have been accused of flouting height and age norms imposed by the court. Two persons, both adults, have been injured during the celebrations, in which human pyramids well over 30 feet are made.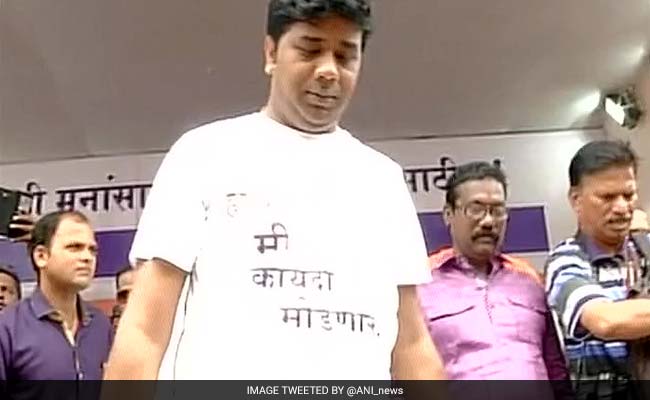 The crackdown started with the police intervening at a celebration in Thane, forcing the organisers to reduce the height of the dahi handi which was strung up this morning at 49 feet -- more than double the 20 feet allowed by the Supreme Court.
Even so, when the pyramid broke, a little girl -- who had climbed right to the top -- was seen hanging, proving that the organisers had also violated the Court's order disallowing anyone below the age of 18 to participate in the human pyramids.
There have been accidents in past years in which people, including children, have been killed or injured after falling off the pyramid. Last year, a boy died and 300 people were injured during dahi handi festivities in Maharashtra.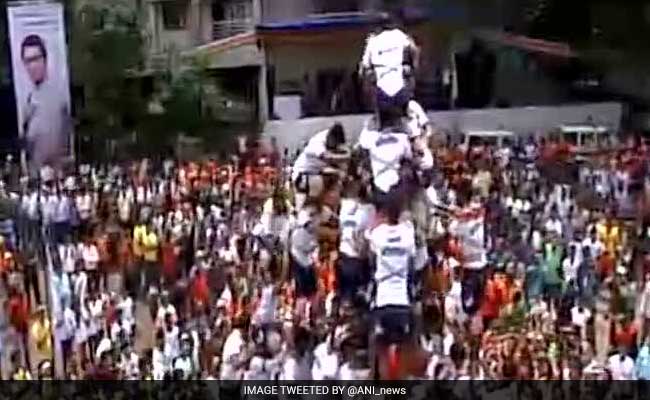 Still, since morning, Mr Jadhav's team, along with other groups in Mumbai and Thane, defied every order of the Supreme Court.
Human pyramids have been built as high as 35 feet. Small children have been seen scaling the pyramid to break the earthen pot filled with curd that is strung up. Music has been blaring at almost 100 decibels in places - when the upper limit is 50 decibels, the police said.
The violations had followed the remarks of Maharashtra Navnirman Sena or MNS chief Raj Thackeray, who had told workers of his party that the festival, which celebrates the birth of Lord Krishna, will be observed today "the way it's meant to be".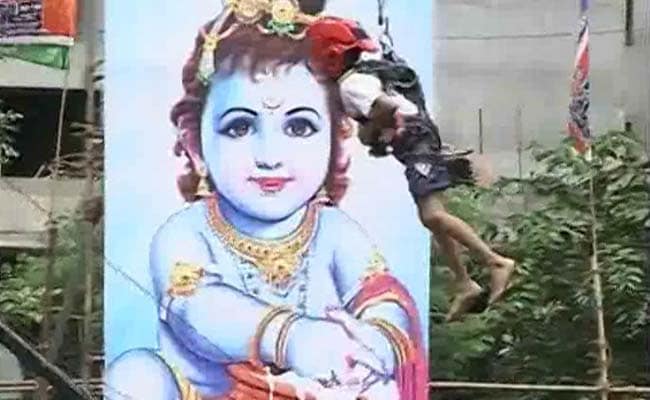 A young boy participates in a 'dahi handi' event in Thane
Mr Jadhav had declared, "The Supreme Court cannot dictate how we celebrate our festivals. If I break the law then I am willing to go to jail for this".
"To increase the height is very scary," the Supreme Court said on Wednesday, refusing to rethink its 20-feet cap for the handi. "Are you getting an Olympic medal also for this? Then we will be happy," the court had asked a Mumbai based group which petitioned it to allow higher handis.
The Thane
handi
will get no medals, but at 49 feet, the organisers were attempting to smash a world record set by a Mumbai-based group that had a
handi
at 43 feet some years ago. That made it to the Guinness book of World Records,
dahi handi
enthusiasts have pointed out.