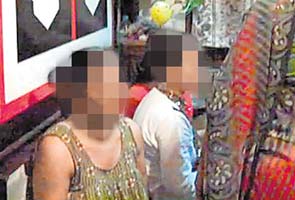 Mumbai:
A 32-year-old widow from Karnataka was rescued from a brothel in Kamathipura in Mumbai on Wednesday evening. The woman was forced into prostitution four years ago by some unidentified men who had given her a drink laced with drugs and then kidnapped her from Chamrajnagar district in Karnataka. The local police have arrested Shashi Ram Tamang (45), brothel manager, under the Prevention of Immoral Trafficking Act. The raid went on for almost two hours, after which the arrest was made.
"The rescued woman hails from Gundulpeth area of Chamrajnagar district. She had developed a relationship with her regular customer Noor Mohammad, also from the same state. The woman told Noor she didn't want to continue, so he went to her village and informed her brother." The woman's relatives then contacted the Indian Rescue Mission (IRM), who then contacted the local police station," PSI Jaideep Gaikwad said.
James Verghese of the IRM said, "The woman's husband died 10 years ago. She has a daughter in Std IX. Four years ago, the woman had gone to the Mandi area. Two unknown youths approached her and gave her a liquid to drink which was probably mixed with some drugs. After that she fell unconscious and woke up in Mumbai at the brothel."