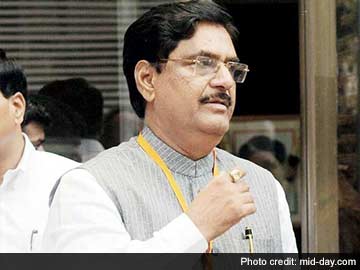 Mumbai:
If there was anyone who kept the Mumbai Cricket Association (MCA) and its president Sharad Pawar on their toes in recent times, it was Gopinath Munde.
Munde, who passed away in a car accident in New Delhi yesterday, created ripples in his maiden entry into cricket administration when he dragged the MCA to court after his nomination for the president's post was rejected during the biennial elections held last October.
Just as former president Pawar was set to be re-elected unopposed, Munde, who had earlier filed his nomination for the vice-president's post, jumped into the fray for the top post.
The senior Bharatiya Janata Party (BJP) leader's aim was to break Pawar's hold on Mumbai cricket. After his nomination was rejected by the MCA on the grounds that he was not a permanent resident of Mumbai, an undeterred Munde decided to fight the matter in court.
He was successful in getting a stay order from the lower court, restraining MCA chief Pawar from discharging his duties.
The Munde-Pawar war was now in the public eye. "He (Pawar) thought he was the king of the MCA. He has never wanted to contest and win elections. So, this is a big setback to Pawar.
For a change there is someone who has challenged his monopoly in the MCA. I am very happy with the decision. Justice has been done to me," Munde had told mid-day after the verdict.
'No point talking now'
MCA challenged the decision in the Bombay High Court and got an interim order in their favour. However, it is learnt that the final verdict in the case was due on June 18. "No point talking about it now.
I don't know what his family will decide (whether to pursue the case further or not)," an emotional Shah Alam, the person who introduced Munde to Mumbai cricket, told mid-day yesterday. Munde had filed his nomination from Alam's club Stylo Cricketers.
Alam said Munde's political rivalry with Pawar apart, the BJP leader, who was Rural Development Minister in the new cabinet, was keen to take cricket to rural areas.
"His main aim was to make cricket facilities available to rural kids. He always felt they were neglected and ignored.
He also believed in strengthening club cricket in Mumbai as that was the pipeline for producing talented players. He had a broad vision for the development of Mumbai cricket," said Alam.