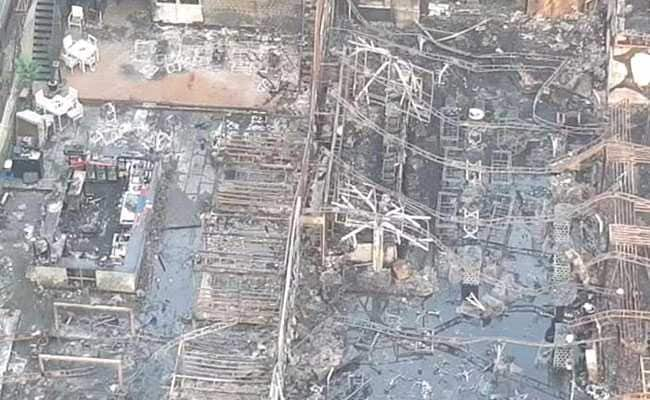 Highlights
Mangesh Kasalkar of the MNS reported about violations on October 10
Civic body then inspected Trade House Building where the fire broke out
BMC in a letter said it found nothing illegal, the politician said
Mumbai:
Mumbai's civic body had been warned just months ago about deadly violations in the four-storey building at Kamala Mills where a fire at a rooftop restaurant left 14 dead. The politician who claims to have complained to the agency about the Trade House building says he was told that there was "nothing illegal".
"I complained on October 10. I gave names. The BMC respond by saying that they had inspected the building and there was nothing illegal," said Mangesh Kasalkar of the Maharashtra Navnirman Sena, showing the letter he received from the BMC or Brijhanmumbai Municipal Corporation.
A woman celebrating her birthday and her friends were among 14 people killed in the blaze that started around 12.30 am in the "1 Above" pub and spread to the adjoining "Mojo's Bistro". The fire, helped by a false ceiling made of dry bamboo, engulfed the rooftop within minutes, with hardly any escape route for the revelers.
Among the major violations in fire safety rules that have emerged so far is the absence of fire extinguishers in the restaurant. There were also no emergency exits.
The fire brigade found that illegal constructions exacerbated the fire, which finally brought the restaurants down.
Chief Minister Devendra Fadnavis said he had ordered the civic body to carry out an "in-depth inquiry" and take strong action against officials responsible.
Kirit Somaiaya, a BJP lawmaker, alleged that the fire department had given clearance illegally to the pubs and restaurants despite violations.
"For me it is because the fire department is giving illegal NOCs (No Objection Certificates) to simultaneously the health department of BMC who are giving permissions to such restaurants,"Mr Somaiaya said.
In a statement, Mojo's Bistro said it had all fire safety norms, certificates and procedure in place. "The staff are thoroughly trained in fire drills hence our staff was able to evacuate all our guests and themselves out to safety with zero injuries. There were NO cylinders on our premises. We are fully complying with the authorities to help in any way we can," said the restaurant.