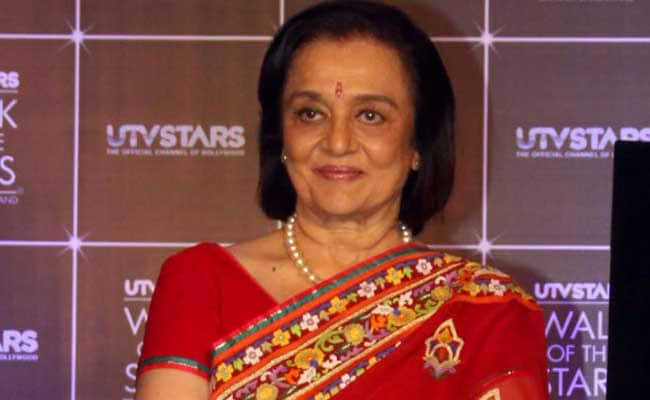 Mumbai:
Veteran actor Asha Parekh was hurt when Union minister Nitin Gadkari claimed that she "chased" him for the Padma Bhushan. The Minister for Road Transport and Highways had last year said Ms Parekh had approached him seeking recommendation for the prestigious award. He had also said that giving away Padma awards "has become a headache these days".
The 74-year-old actor, however, said Mr Gadkari's remark "wasn't right". "It did hurt me. It was not the right thing for him to do. But I took it with a pinch of salt. It didn't matter to me... Controversies are a part of the film industry," Ms Parekh told PTI.
Mr Gadkari had also claimed that the actor climbed 12 floors to see him. "One actress met me, she has turned old... Asha Parekh. She came to meet me in Mumbai. The lift to my residence was not working, she climbed up 12 floors. I felt very bad and asked her why she took the trouble. She said I have received Padma hri, Nitinji, now I want Padma Bhushan. I said you have received a Padma Shri, it is like Padma Bhushan. She said no," he had said.
According to Mr Gadkari, Ms Parekh had told him that she deserved the Padma Bhushan for her massive contribution to Indian cinema.
Ms Parekh was honoured with Padma Shri in 1992 and with a Lifetime Achievement award in 2014. One of the top stars from 1959 to 1973, she worked with many superstars including Shammi Kapoor, Rajendra Kumar and Rajesh Khanna among others.
Awaiting the release of her autobiography, "The Hit Girl", which she has written with film critic Khalid Mohamed, Ms Parekh said her memoir talks about the ups and downs in her personal as well as professional life. Actor Salman Khan has written the foreward.
"This is something I had wanted to do, but hadn't gotten down to doing for a very long time. My good friend and journalist Khalid Mohammed, whom I've known for years, helped me to do it. I hope people like the book," she said.
Besides, her other commitments, her hospital keeps her busy. "I am a little stressed about that. I am very concerned about the hospital," she said.
(With inputs from PTI)