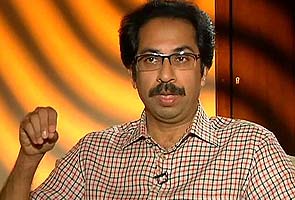 Mumbai:
Shiv Sena president Uddhav Thackeray today submitted a plan to Maharashtra Chief Minister Prithviraj Chavan for setting up a state-of-the-art garden at the Mahalaxmi race course.
The 99-year lease of Royal Western India Turf Club (RWITC), which maintains the Mahalaxmi race course, expired on May 31, prompting the Shiv Sena to demand a theme park at the sprawling grounds.
"I met the Chief Minister and handed over the plan to him to build a theme park at the Mahalaxmi race course. After 99 years, people of Mumbai have got the opportunity (to take control of this land)," Mr Thackeray told reporters after meeting Mr Chavan.
"The Chief Minister said he will consult all (parties) before going ahead with the plan. He also said the concept is good," he said.
The Sena leader, who was accompanied by senior party leader Subhash Desai, Mumbai Mayor Sunil Prabhu and Brihanmumbai Municipal Corporation's (BMC) standing committee chairman Rahul Shewale, also said that he does not want to politicise the matter and "nobody should make it a prestige issue."
"The CM said the concept is good. He will call everybody to discuss the issue. The land is of Mumbaikars," Mr Thackeray said.
A couple of days back, Mr Thackeray had asked people to send suggestions or objections to the proposal and clarified that he had never demanded that the garden be named after his late father Bal Thackeray.
BMC Commissioner Sitaram Kunte had said the civic body would be submitting a report to the state government on the race course issue.
Set up in 1883, the Mahalaxmi race course occupies 8.5 lakh square metres of open space - a vital green lung in the heart of the island city. Planners and activists have weighed in options ranging from setting up a theme park, to building a public garden along the lines of London's Hyde Park.
The Shiv Sena-BJP-RPI controlled BMC owns 2.5 lakh square metres of the race course land, while the state owns the rest.