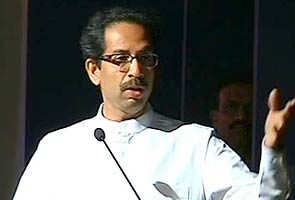 Mumbai:
Shiv Sena Executive President Uddhav Thackerey has defended a Mumbai police inspector whose poem on the riots at Mumbai's Azad Maidan last year sparked off a controversy.
Traffic inspector Sujata Patil's poem, titled Azad Maidan, in Mumbai police's in-house magazine Samwaad took a hard line on the Azad Maidan rioters.
She wrote that the hands of the rioters who desecrated the Amar Jawan Jyoti memorial at the Maidan last August should be chopped off. And that the police should have opened fire at the mob.
The Mumbai police had said the poem was written "inadvertently" and that an apology would be published in the next issue of the magazine.
But Uddhav says Patil did no wrong. "Why should Sujata Patil not have the same freedom of speech that the two women from Palghar were supposed to have while opposing the shutdown of Mumbai on Facebook after Bal Thackeray's death?" he asked.
The Facebook post questioning Mumbai's shutdown on November 18 - the day Bal Thackeray was cremated - had angered a local Shiv Sena leader in Palghar, Maharashtra and invited high-handed police action on the two young women, one of whom wrote the post and the other liked it.
The two women were arrested, sparking a public outcry and a debate on the outdated information technology law under which the police acted against the women.