A 31-year-old tourist's quest to get a perfect picture of Mumbai's cityscape nearly killed him after he fell off the edge of the Bandra-Worli Sea Link. Thanks to the high tide, however, he had a miraculous escape, washing ashore 2 km away in Dadar. The cabbie driving the victim said he had stopped to click photos on his phone; the police, however, are yet to rule out whether it was a suicide attempt.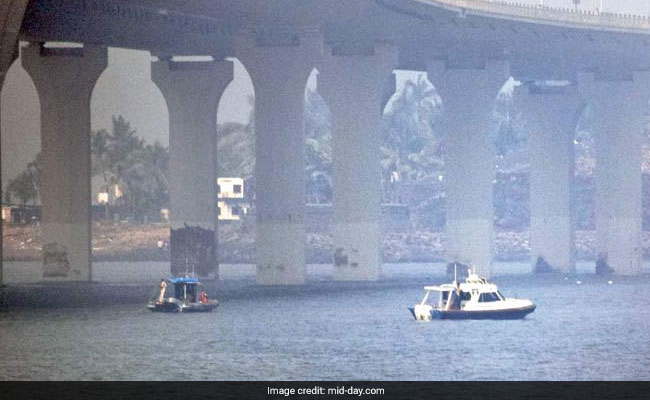 For over two hours, the Mumbai police and fire brigade searched the sea for the man who had fallen off the sea link. They finally got a call that an unconscious man had washed ashore nearly 2 km away at Chaitya Bhoomi in Dadar. The cops found an Aadhaar card in his pocket and were able to identify him as Uttar Pradesh resident Nikhar Sahu. A taxi driver - the sole witness to the incident - confirmed that he had driven Sahu to the sea link, where he fell off the bridge.
Witness account
Speaking to mid-day, the cabbie, Mohammad Shakil Qureshi, said, "Around 11 am, the victim hailed my cab near the Bhabha Hospital signal. He had just alighted from an auto and asked me for Rs. 90 change to pay the driver. He then told me that he wanted to see the sea link and then go to Bandra station. He said he wanted to go to meet his elder brother in Panvel, so I suggested going to Wadala station instead." Sahu told the cabbie that he had come from Kanpur, where his father runs a grocery store. His brother is a driver here.
Qureshi recalled, "He kept requesting me to stop my car so he could click pictures on the sea link. I told him it was not permitted to stop on the sea link, but agreed to slow down, so he could get down and take a few photos. We were near pole number 19. He went to the edge of the bridge and started clicking pictures. As I watched from the side-view mirror, he suddenly disappeared."
Qureshi found a security guard posted around half a kilometre away and told him what had happened. The police got word of the incident around 11.50 am and swung into action, roping in the fire brigade for the search and rescue operation. Around 2 pm, Sahu was found, unconscious, all the way at the shores of Chaitya Bhoomi. The Shivaji Park police fished him out of the water and rushed him to Sion hospital.
Cop speak
Gajanan Besurkar, senior inspector, Worli police station, said, "The high tide may have dragged him to Dadar, or he might have swum there. Until he regains consciousness, we can't be sure what exactly happened." Sahu is now stable, but still unconscious. The police are trying to trace his relatives, but have so far only managed to learn the victim's name and the fact that he has four fingers and a few tattoos.
(Except for the headline, this story has not been edited by NDTV staff and is published from a syndicated feed.)