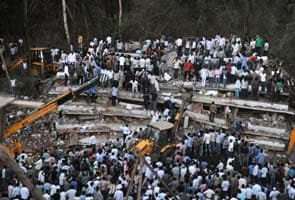 Thane:
Forty five people, including 11 children, were crushed to death in Thane on the outskirts of Mumbai after a building collapsed while under construction on Thursday evening. 50 people have been rescued, but some are still believed trapped in the debris.
The seven-storey building collapsed into a mangled heap of steel and concrete more than 20 feet high that rescuers and local residents struggled to cut through.
The building had been constructed illegally in two months, and sub-standard material was used, said officials. Homes and offices had been set up within the building. An eighth floor was under construction.
The two builders, Jamil Qureshi and Salim Shaikh, have gone underground. The police has filed a case against them of culpable homicide not amounting to murder (Sec 304 of IPC) .
"The building (that has collapsed) was an unauthorised construction. We are going to investigate thoroughly into this and prepare a report," said Sandeep Malwi, spokesman for the Thane municipal corporation.
A tuition centre for school students had been set up within the building, but they had left for their homes when the building collapsed at 6.30 pm.
Maharashtra Chief Minister Prithviraj Chavan and Deputy Chief Minister Ajit Pawar visited the accident site this afternoon.
The Shiv Sena, which controls the Thane Municipal Corporation, has passed the blame onto the ruling NCP-Congress government.
"Why didn't the local NCP leader and MLA Jitendra Ahwad lodge a complaint? Inquiry will be done, action will be taken," said Shiv Sena spokesperson Neelam Gorhe.