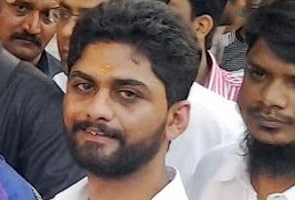 Mumbai:
Suraj Thakur, Mumbai president of the Congress' students' wing, has reportedly been suspended for allegedly dancing naked at a party function in the city last month.
The incident reportedly took place during a coaching event of the National Students Union of India or NSUI in Kandivali suburb of Mumbai on the night of April 14. Sources say Mr Thakur was drunk during the function.
Nigam Bhandari, the Mumbai in-charge and Secretary of the NSUI, has confirmed the suspension but added that they had no proof that Mr Thakur was in an inebriated state or had indulged in any vulgar dance. Mr Bhandari added that two others - NSUI's general secretary Vicky Vhatkar and a national delegate Hitendra Gandhi - have also been suspended for alleged indiscipline at the meet.
"All three were misbehaving with coaches and other delegates who were present there and therefore we have suspended all three of them," Mr Bhandari said.
On their official Facebook page, NSUI posted a message saying, "NSUI Mumbai president Suraj Thakur has been suspended on the grounds of indiscipline. The organization won't tolerate any form of indiscipline; stringent actions will be taken up."