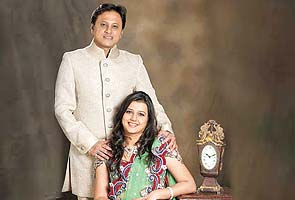 Mumbai:
They say love conquers all and in this case it turns out to be true. Despite being a member of the party that often slams celebrations on the day dedicated to love, a Shiv Sena corporator from Borivli (West) has decided to throw caution to the winds and celebrate the most important day of his life, his wedding, on Valentine's Day.
Abhishek Ghosalkar, son of MLA Dr Vinod Ghosalkar, is all set to tie the knot with his fiancée Tejasvee Darekar on February 14, Valentine's Day. The couple is going to marry at Kora Kendra grounds at Borivli (West). The who's who of the party will attend the fairy tale wedding. Interestingly, it is an arranged marriage and the bride's family, as sources have revealed, has no affiliations to any political parties.
Abhishek Ghosalkar, the happy soon-to-be-groom, said, "Yes, I am getting married on Valentine's Day to Tejasvee, who is an IT professional. But it was not intentional. The mahurat was good and so it happened that we are getting married on Valentine's Day." In fact, Abhishek, who isn't towing the party line when it comes to the idea of celebrating Valentine's Day, will also be missing the budget discussions owing to his nuptials. "I shall attend next year's budget and discussions. This year, I will enjoy myself."
When MiD DAY spoke to the groom's father, Dr Vinod Ghasalkar said as a Shiv Sainik, they did not give any importance to the day for romance and love and in fact, chose February 14 as it is auspicious according to the Hindu calendar. He said, "I decided on February 14 for my son's wedding because it is Vasant Panchami and in the Hindu calendar it is an auspicious day and occurs only once in many years. I don't know anything about this Valentine's Day."
In the past, the Shiv Sena has carried out several protests and agitations against Valentine's Day and attacked couples and vandalised shops selling cards and bouquets. However, in the past two years, the party workers have mellowed down but continue to oppose the celebrations.
Get the latest election news, live updates and election schedule for Lok Sabha Elections 2019 on ndtv.com/elections. Like us on Facebook or follow us on Twitter and Instagram for updates from each of the 543 parliamentary seats for the 2019 Indian general elections.