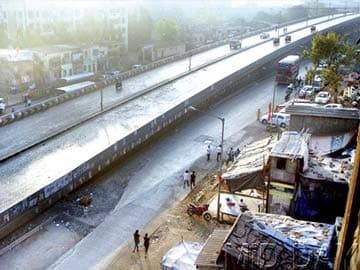 Mumbai:
You've waited for it for 10 long years, and in an answer to your prayers for easier, faster commutes, the Santacruz Chembur Link Road (SCLR) is finally ready.
But the Congress-NCP state government would have you endure the wait for a few more weeks, in hope that a well-timed inauguration will impress voters enough to give the alliance an advantage on Election Day.
The project, which has already earned the embarrassing tag of being the 'world's most delayed road project' is a 100 per cent complete. And yet, sources from MMRDA have confirmed that the stretch will be thrown open to motorists on the second or third week of the month, just a few days ahead of polling in the state.
A senior MMRDA official said, requesting anonymity, "The civil work of SCLR is 100 per cent complete, and only the final touches remain, such as painting the dividers and the lines on the sides of the road.
We can complete this in just a couple of days. But we have been asked not to hurry, and only make sure the work is completed within the next week, so that the SCLR can be thrown open to the public in the second or third week of April."
The MMRDA has projected the SCLR as one of its most important projects after the Jogeshwari Vikhroli Link Road (JVLR), as it is expected to ease commuting woes between the eastern and western suburbs.
Another source in MMRDA said, "The Congress-NCP government now wants MMRDA, which is headed by the Congress, to throw open several infrastructural projects in Mumbai just before the elections."
He added, "Many representatives of political parties from the areas around SCLR have been calling us up, and asking us when are we opening the SCLR. Some even tell us that it should be opened just a week before Election Day, so that voters know what kind of developmental work the government has done."
The project has already missed 12 deadlines since its inception in 2003. In 2010, when the World Bank was funding the project, Roberto Zagha, the India head of the financial institution, referred to SCLR as the 'world's most delayed road project.'
mid-day had reported on the escalating project cost brought on by the massive delays, with the expenses rising from the initially estimated R114.8 crore to a staggering R428 crore - a R313 crore jump. As per the initial plan, the groundwork for the link road was to start in September 2003, but began only in 2007.