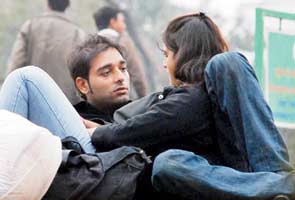 Mumbai:
This Valentine's Day, couples can snuggle up on park benches and corners unhassled, as the moral brigades have decided not to play spoilsport by targeting love-struck couples on February 14, an activist of a right-wing group said.
One of the reasons behind this change of heart is the bad reputation they were getting.
Om Dutt Sharma, Shiv Sena's Delhi convenor, said, "Since last year we are not going in for any kind of demonstration. What is the use or point. We cannot stop them from celebrating, and we are getting a bad reputation."
"Earlier, we used to object to Valentine's Day celebrations and tell couples whom we found together to get married, otherwise we would hand them over to police or parents. But since last year we have subdued our opposition," added Vinod Sharma, a Bajrang Dal activist.
"There will be no protests or demonstrations against it, but at the same time youngsters should also behave decently. We have already given instructions through our district offices that no activists should harass any couple on February 14 unnecessarily," Mr Sharma added.
The moral brigade is known to harass couples on the ground that Valentine's Day is a Western concept and against Indian culture.
However, Vinod Bansal of the Vishwa Hindu Parishad (VHP) said the group would not encourage the celebrations. They plan to oppose it in a different way.
"Youngsters and couples should not indulge in immoral behaviour on February 14 at public places like pubs, parks, restaurants and gardens. We are sending about 50 letters in and around Delhi and the National Capital Region (NCR) to various pubs, restaurants and hotel management bodies asking them not to organise any programmes or allow vulgar dances in their premises," Bansal said.
Apart from pubs and restaurants, the group is sending letters to educational institutions to request that Valentine's Day events are not celebrated.
"We will be sending letters to all universities in the capital requesting them not to hold Valentine's Day celebrations. It is a Western concept and against Indian culture," Bansal said.
He also claimed that the right wing outfits have never promoted violence.
In the past, radicals kept vigil at parks, restaurants and other places on the day to prevent couples from getting close, and also attacked greeting card shops, pubs and gardens to protest the celebrations, drawing widespread criticism.
Around Rs 12 crore was spent during the Valentine's Day last year, according to Associated Chambers of Commerce and Industry of India.