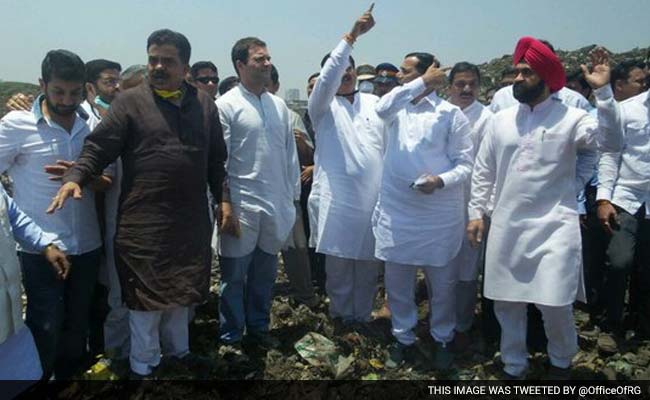 Highlights
Several fires recently broke out there, sending toxic smoke into the air
Congress likely to highlight civic mess in the run up to municipal polls
Shiv Sena currently runs the Brihanmumbai Municipal Corporation
Mumbai:
Congress Vice President Rahul Gandhi toured the
Deonar
garbage dumpyard located in the eastern suburb of Mumbai, where several fires have broken out over the last few months, sending toxic smoke into the region.
Deonar
has
12 million tonnes of garbage
, according to some reports, piled onto nearly 326 acres of land. The Congress is likely to highlight the civic mess there as a major point in its campaign for Mumbai's local corporation, which is one of the richest in the world with an annual budget of over Rs 30,000 crore.
Speaking at the site, Mr Gandhi attacked Prime Minister Narendra Modi and said, "The PM talks of 'Swachh Bharat' but look at this. Talking about 'Swachh Bharat' and acting on it are two different things. It is sad that there is no strategy to clear this dump in a city like Mumbai."
Elections for the corporation will be held next year. It is currently run by the Shiv Sena, which is the BJP's junior partner in the Maharashtra government.
In February, schools around the dumping yard
were closed after flames blazed there
, sending thick clouds of smoke into surrounding areas.
The Congress, which governed Maharashtra till 2014 in partnership with Sharad Pawar's party, currently has just 41 seats in the state's 288-seat assembly.