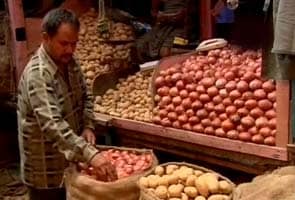 Mumbai:
Onion prices in Mumbai are bringing tears to the eyes of consumers. Sky rocketing onion prices are leaving people across the country with no choice but to cut down on consumption of the vegetable.
At Rs 40 a kilo, in Maharashtra the prices have shot up drastically in one week. While prices have shown a correction at the APMC market in Vashi, traders say prices will continue to rise. Sudham Borke, an onion trader at Nashik's Lassalgaon market says, "This situation is expected to continue for the next few days as there is still some time before fresh stocks arrive."
The price rise is a result of an acute shortfall in onion supply. A crippling drought in Maharashtra, the country's largest onion producing state, has affected supply in the domestic market. The situation has been made worse by torrential rains in states like Uttar Pradesh and Bihar leading to the crop rotting there.
An onion trader at Central Mumbai's Dadar Wholesale market told NDTV that last week the price was between Rs 30 to Rs 32. In the last four days there is an increase of two or four rupees. Supplies are shot and that is "why prices are going up."
The government claims its worried about the situation but has ruled out a ban on exports immediately. Some states have planned to sell onions at a subsidised rate.
Out of total onion production in the country, which is about 60 lakh tonnes per year, about 16 lakh tonnes are produced in Maharashtra alone. The drought in the earlier this year resulted in a bad crop which led to a decline in supply of onions. If the government does not act soon and fails to control spiraling price, onions may become a luxury for many.