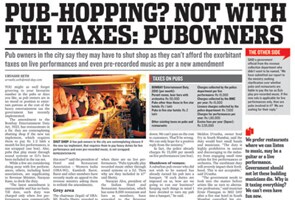 Mumbai:
Bad news keeps pouring in for restaurateurs across the city.
Hotels and bar owners have been sent bills by the collector which take into account the revised entertainment tax introduced by former revenue minister Narayan Rane last August.
Hotel and bar owners grumble that the mounting bills will burn holes in their pocket. One of the restaurateurs, Vikram Singh, owner of Sunshine Bar at Grant Road has been issued a bill of Rs 3 lakh for the last six months.
"This new tax is just an added burden.
We are paying Rs 15,000 as entertainment tax to Mumbai police and an addition of even Rs 50,000 a month will force us to shut down," he said.
Several restaurateurs are on the verge of closing down as they cannot cope with the increasing taxes ('Pub-hopping? Not with the taxes: Pub owners', October 25).
Bharat Thakur, president of the Bar Owners' Association, who has also been affected by the new entertainment tax said, "I am worried that I might have to stop the orchestra in my establishment.
This was the only medium of entertainment for the lower income group but it seems that the government does not want it. We hope they wake up before it is too late."
Recently, a group of musicians and hotel owners had made a presentation to Revenue Minister Balasaheb Thorat requesting him to revoke the tax revision order.
Nirmal Kumar Deshmukh, the collector, said, "I am just following the government regulation that was issued in August 2010. We have started collecting the tax from various restaurants and bars in the city.
There is no written communication from the revenue department over not to collect the tax and hence we will do our job of collecting it."