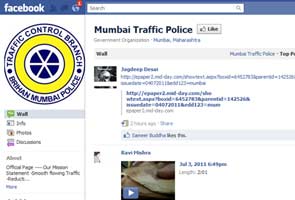 Mumbai:
The Facebook page of the Mumbai Traffic Police has not garnered many 'Likes' from its users, who lament that the cops hardly take any action on the complaints verbal and pictorial posted by them on the page.
The page, with its yellow-and-blue logo, was created in August 2010 so citizens may upload photos of traffic breaches and cops may act against the offenders, bringing the rate of traffic breaches down.
However, its users close to 10,000 say it has failed in its intent of creating awareness of a better road sense among motorists. They condemn the traffic cops for their nil response towards their complaints.
Puneet Sachdeva, a documentary filmmaker and an active user of this site, said that he is upset with the MTP's response.
He now plans to make a presentation listing the instances of inaction from the police "A lot of people keep posting traffic violations and complaints with supporting photographs but no one reacts to this.
We are now gathering other members of the site to support the cause. We are sure this will help us in our efforts," said Sachdeva, who has set up a dedicated helpline 9920080700 for traffic grievances and requests for the support of Mumbaikars.
Jagdeep Desai, another frequent user, said that the traffic police must to do something about people's complaints. "I am not satisfied with their response. We have the right to know about the status of the offences directly."
Sachdeva, who has been working to make this page successful, cited the example of the Facebook page of the MTP's Delhi counterpart, which has 70,000 members.
The capital's traffic cops reply promptly to updates regarding traffic jams posted on the page, he said.
Brijesh Singh, Additional Commissioner of Police (Traffic), admitted that the MTP had started this page so that citizens with a camera phone can upload images of traffic violations, helping keep crime under control.
In his defence, he said, "We surely act on the cases registered on this page but the actions are not posted on the website.
There is a separate unit created to take care of the page. But people upload pictures of incidents from a long time ago."