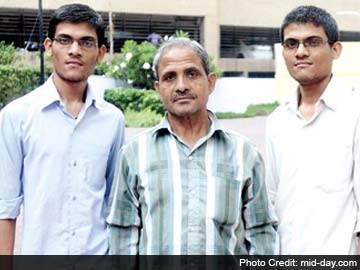 Mumbai:
All Ramashankar Yadav, a bus driver, knows is that his twin sons have cleared an exam. What he cannot comprehend is that the exam in question is the JEE-Advanced and how his sons have now embarked on a path which may see the family's fortunes undergo a sea change.
"My parents only know that we have passed the exam but they don't understand the importance of the same. For my brother and me, this is our first step towards attaining our goals. We both want to become researchers," said Ram Yadav (18).
While Ram has secured the 267 rank in the OBC category, his brother Shyam has got rank 1,816 in the same category. Born and brought up in a small slum in Bhiwandi, their father's only aim was to earn enough to make sure his family is fed. With his monthly salary of Rs 8,000, he somehow also managed to fund the basic education of his four sons over the years.
Ram and Shyam managed to score well in the Std X and XII board exams without the help of any coaching, but cracking the JEE was going to be a different ball game.
"We were informed about a class where they would teach us for free if we passed their aptitude test. We both scored very well and immediately got full scholarships," said Shyam. Both boys trained at FIITJEE.
Funding issue
The problem for the twins, however, hasn't ended with passing the exam. While it is certain that the brothers will get through to one of the IITs, paying the hefty fees will be a Herculean task for their father.
"We both want to pursue engineering, but, eventually, we want to do research in particle physics and space. At this point, we have no idea how we will be able to raise the funds for our education," said Ram, who loves to read autobiographies of great innovators.
The boys are now focusing on choosing the right field of engineering before choosing the institute. "My boys are very hardworking and have always done well in studies. But we are at a juncture where I don't know how to help them with their future plans. Hopefully, things will fall in place," said their father.