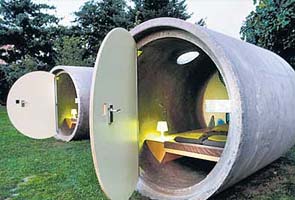 Mumbai:
More than a year after announcing their plans to beautify the city, just a couple of weeks ago, Subodh Kumar, Municipal Commissioner of Mumbai, sanctioned a scheme to allow private builders and developers to install street furniture on specific streets in exchange for advertising rights on that furniture as 10 per cent of the revenues to go to the Brihanmumbai Municipal Corporation (BMC).
Kumar went on record to state that the project would now be implemented across the city, except in areas delineated by the Mumbai Heritage Conservation Committee (MHCC).
The die has been cast
The manner in which this scheme is implemented will undoubtedly decide this city's fate, but celebrations may be premature in light of the corporation's track record the BMC's plans to take over the centrally-sponsored Integrated Child Development Scheme (ICDS), which is responsible for the health and nutrition of mothers and children was scrapped in December 2009.
The group's October 2002 resolution to make rainwater harvesting mandatory for all new constructions is, according to a recent report, barely enforced, with the BMC receiving only 100 applications for putting rainwater harvesting in place last year and is anyone ever around to collect that Rs 500 fine they imposed on pet-owners should they neglect to pick up after their pet?
So, the idea that garish benches with large neon hoardings may take over the city as a result of this scheme cannot be completely ruled out. But neither can we deny that the city is in dire need of a few fixtures street maps and signs, bus and train route maps, bicycle-stands, urinals, if not toilets, and for heaven's sake dustbins!
Throwing light on important issues
Asim Merchant's eco-bench design has inexpensive concrete 4-way seating running around a tree which would, one imagines, be immensely appreciated by pedestrians in areas like Carter Road, Worli Seaface, Marine Drive and the Mahalakshmi promenade.
"We need to plant more trees," Merchant stresses, "and here, the trunk of the tree could also be used to peg a tasteful sponsor-sign or a small advertisement on and thereby ensure that the bench and lamps are maintained by a steady stream of funds," he says, seemingly conscious of how damaging light pollution can be to the eco-system.
We hope the authorities are as aware polarised light has been seen to disrupt circadian rhythms and upset the behavioural patterns of fauna and prolonged exposure to artificial light, according to Winslow Briggs' Ecological Consequences of Artificial Night Lighting, "prevents many trees from adjusting to seasonal variations."
Merchant also feels that it would be nice to have street-furniture that reflect our culture and to this end suggests the use of good quality, well-fired terracotta in conjunction with stoneware for benches.
"This would lend the furniture an ethnic charm and besides, terracotta is ideal for our hot summers as it's porous and doesn't heat up the way metal does."
Benches or beds for the homeless?
Architects, Ahsan Ansari of p f a (passion and faith in architecture) design firm and Clement DeSylva both, recognise that benches on streets may turn into shelters for the homeless, but then they also concur with the viewpoint of noted architect Charles Correa who once said, "If the only place people can find to live is in concrete water pipes then at least the authorities should stack them conveniently."
Should the authorities want to see what can be achieved with large repurposed sewer pipes, the Daspark Hotel in Ottensheim, Austria, offers a great example here, they've been transformed into comfortable rooms where you can pay what you deem appropriate.
Where are the bus stops?
Complaining about the lack of greenery in the city, as he stresses on the function of our bus-service, architect, Ahsan Ansari says, "The public transport network of our city is one of the best in the country and bus-stops form an integral part of the streetscape."
Therefore, Ansari believes that the street-beautification scheme must start with this. "A structure completely made out of a network of plants vertical gardens woven on an anti-corrosive MS wire Frame with a drip irrigation system," is hence his recommendation.
"The bench inside would be made out of recycled sleeper wood and passengers would be comfortable, sheltered from the scorching heat."
Architect Naved Kazi of Transitions Architects, a company that specialises in designing and conceptualising new office spaces, and Alok Karmakar, director of the firm too have a bus-stop design in mind, but their idea involves the use of Corian, a weatherproof material which can be easily moulded.
"A backlit route map is urgently required at our bus-stops," Kazi emphasises. He says that LED displays could be used for advertising, as he adds, "a newspaper stand would be a welcome addition, and solar panels could take care of the unit's energy needs."
Benches can be beautiful too
Architect Naved Kazi of Transitions Architects and Alok Karmakar, director of the firm believe that "Green Blocks" could be set up at intervals along pavements.
Designed like a multi-tiered street-bench, these could incorporate space for plants and could be custom-built depending on the space available on pavements, which, Kazi points out, "is often very limited." Transitions' Green Block would therefore be a modular structure, which would allow for flexibility and portability.
Architects,Clement DeSylva and Asim Merchant of Red Blue & Yellow, a contemporary furniture store say that shaded seating is crucial given our climatic conditions.
They also warn against vandalism. "Vandalism is a major concern here," stresses DeSylva, explaining that his own bench design therefore includes stone-structures on either side that would, no doubt, anchor the seat down.
DeSylva also shares a seating design from Manoribel resort designed by Vere D'Silva,(whose family owns Manoribel) , where a simple concrete ring at the base of a tree provides shaded seating, and discarded bottles embedded here serve an ornamental purpose.
However "The Tree of Afterlife", which is DeSylva creation, incorporates discarded plastic bottles, which, DeSylva feels can be decorative. He explains, "Simply by changing the liquid inside them, the colour of the bottles can be varied to suit the festival being celebrated in our city."
Where the grass looks greener
Earlier this year, architect Matthew Soules received the Pinnacle Award for his innovative design of a urinal-cabin for the City of Victoria, Canada. The structure was commissioned by the city to address the public urination problem, though the advertisement- plastered toilet booths set up by JCDeceaux in 2007 didn't seem to do the trick.
In the town of Lyme Regis, South-West of Dorset, England, street furniture has been designed to reflect the town's location at the Jurassic Coast, the 5th greatest natural wonder in Britain that documents 180 million years of geological history.
To give the streets a facelift the booths of florists in Mexico were given a swanky makeover, the cost of which was recovered by advertising on the side panels of these structures. Similarly, metal bins manufactured by
Obras de Arte were set in place and nailed to the ground with provision for advertising overhead.
Simple canvas canopies and benches were put up on the esplanade of Bateman's Bay in New South Wales back in 1980, to allow pedestrians to kick up their feet and enjoy the soothing sound of waves.
Coming soon to Ghatkopar, Bhandup and Mulund
Shenzhen and Hong Kong's Qumbet, a company that specialises in designing street-furniture has joined hands with Reliance Group's Big Street and together, the team was awarded the right to design a set of street furniture products for Mumbai Zone 6 according to the company's website. The website also states that a site-survey of Zone 6 revealed that light boxes with mosquito eliminator systems and rain shelters were required here. Here's a glimpse of what Qumbet will put up once it receives approvals from authorities.
Views
Sharada Dwivedi, Historian and Researcher says, "The Urban Design Research Institute (UDRI) had prepared a whole handbook of street furniture for different areas. Why has that been ignored? The book had beautiful street furniture designs, many of which were used during the upgrading of Kala Ghoda.
There are designs for everything from tree-guards and street-signs to benches and fences and the handbook is already with the BMC so why waste money to redesign something that has already been approved? Why reinvent the wheel? I'm always a little wary of money going out of government or municipal coffers especially for something that has already been done."
Anita Garware, Head, Indian Heritage Society says, "This city which has grown over centuries has a different character in each area and effort must be made to see that any development should conform accordingly. You can't have stainless steel furniture planted randomly on Malabar Hill, which resembles a hill-station or around Bandra which was a beautiful East-Indian town. Architects and the BMC must ensure that furniture is designed in keeping with the space's distinctive identity."
However, Kirtida Unwalla, Conservation architect and member, Indian Institute of Architects believes, "The BMC has to consider the financial aspect of any scheme. Even if advertisements and hoardings are required to generate revenue, due control must be exercised when putting these up they should be spaced out properly and each area's aesthetics must be kept in mind. A design council should be set up to govern the street furniture scheme."