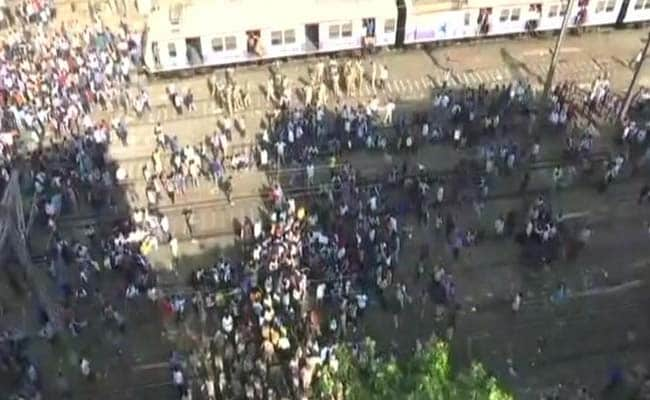 Mumbai:
Hundreds of students blocked railway lines in Mumbai this morning, forcing authorities to stop the suburban and express lines that serve as Mumbai's lifeline. A 'rail roko' was carried out by students who cleared the railway apprentice exams and are seeking jobs in various departments of the railways.The agitation was called off around 11 am after Union Railway Minister Piyush Goyal said discussions will be held with the students. The 'rail roko' protest had a cascading effect on the Western Railway route that was functional, with all trains running packed to capacity.
Here are the top 10 facts on the Mumbai Rail Roko protests:
The protesters are demanding scrapping of the 20 per cent quota and jobs for locals in all states to those candidates who clear the All India Railway Act Apprentice Exams.

The 'rail roko' protests were carried out by activists of the All India Act Apprentice Association.

Students shouting slogans against railways held placards in their hands demanding a one time settlement under the general merit quota and said that they demand jobs from government.

"There has been no recruitment since last four years. We are struggling from pillars to post. Over 10 students have committed suicide. We cannot let such things happen," news agency PTI quoted one of the protesting students.

"Mumbai police along with GRP and RPF jawans are having talks with the students and railway's first priority was to clear the track first," the public relations officer of Central Railway, Sunil Udasi said.

The students said they had taken up their demands to Union Railway Minister Piyush Goyal who met them but there was no progress in the matter. "Recruitment in railways is underway at a large scale. On directives of the Supreme Court, Indian Railways has made a recruitment policy that is unbiased & transparent," Mr Goyal said today.

"We will not budge from here until and unless Railway Minister Piyush Goyal come and meet us. Our several prayers made to DRM (Divisional Railway Manager of Mumbai Division) have failed," another student said.

Railway officials say a fifth of the railway jobs have been reserved for apprentices, but the protesting students want the quota limit to be removed.

At least five people and a few of police personnel were injured in the fracas even as top police and railway officials rushed to the site to control the situation.

Train services were disrupted for close to three hours as the protesters squatted and laid on the railway tracks between Matunga and Dadar.
(With inputs from Agencies)