Mumbai:
Thousands of local train riders in Mumbai were hit during rush hour on Tuesday as
students demanding railway jobs sat and protested for hours on the rail tracks
between busy stations in the heart of the city.
Some 500 students started their protest around 7 am between the Matunga and Chhatrapati Shivaji Maharaj Terminus (CSMT) stations in south Mumbai, blocking trains to one of the city's main business centres. The railways were forced to stop running suburban and express trains.
The blockade was called off around 11 am.
A large number of policemen had tried to remove the protesters from the tracks and even used batons as students refused to budge, holding up placards and shouting slogans demanding jobs in the railways, one of the largest public sector employers in India. The protesters allegedly also threw stones at the local trains.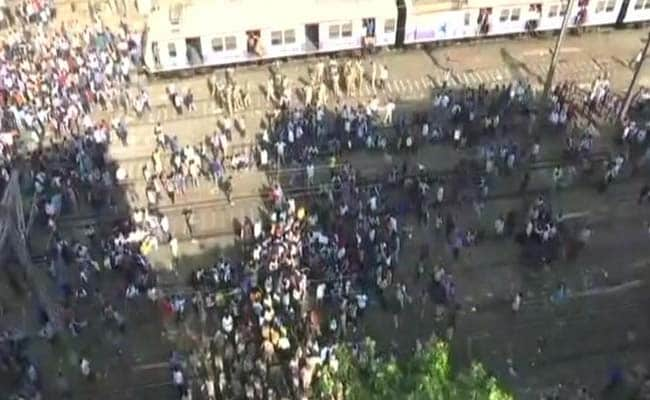 Local trains are the lifeline of India's financial capital and any disruption of services cripples movement in the city. Around 30 trains were cancelled in the morning. Besides the local train traffic, long-distance trains to Mumbai were also impacted. The Brihanmumbai Electric Supply & Transport Undertaking (BEST), the transport wing of the city's civic body, was running additional bus services to help the stranded passengers.
Railway officials say a fifth of the railway jobs have been reserved for apprentices, but the protesting students want the quota limit to be removed.
The students say there has been no recruitment for these jobs in the last four years
. "We are running from pillar to post. Over 10 students have committed suicide. We cannot let such things happen," a student told the Press Trust of India.
Another said, "We will not budge unless Railway Minister Piyush Goyal comes and meets us."
Trains ran up to Kurla in the morning but traffic was blocked from there to Chhatrapati Shivaji MaharajTerminus.
The Central Railway runs 1,710 local trains daily and ferries around 43 lakh passengers every day.