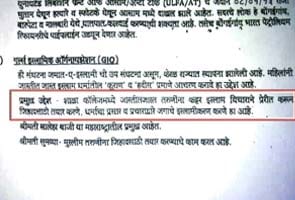 Mumbai:
The Mumbai Police is struggling to explain a memo sent to all police stations, warning that a Muslim organisation which runs educational institutions is covertly trying to enroll women students as jihadis.
The memo asks the cops to "keep a close watch" on the Girls Islamic Organisation of India. The note says that though the organisation's "averred objective is to make more Muslim girls aware of their religion and the holy Quran, its main objective is to indoctrinate school and college girls and train them for jihad."
The parent body of the Girls Islamic Organisation is the Jamaat-e-Islami Hind, which provides educational and social services for Muslim women.
The Jamaat says the circular is a conspiracy to malign Islam and Muslims; the organisation has demanded an apology from the police, whose only explanation so far is that the note was meant for internal use and was leaked to local media.Police sources also say the memo was based on an intelligence alert but did not share more details.
In January, another internal circular asked policemen to catch and punish couples romancing in parks or beaches. "As these places are isolated, criminals can rob them, sexually exploit women... Therefore remove those sitting in such isolated places and take action against then," the notice had said.
The note drew ridicule and criticism and the police withdrew the circular, promising instead to increase security at isolated areas.