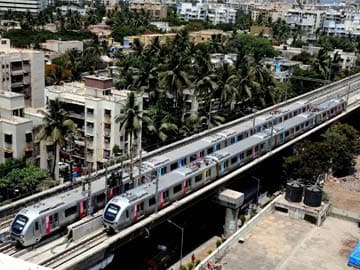 Mumbai:
Mumbai Metro, the city's newest swanky means of travel, on Monday said it has notched 7.5 million commuters within barely three weeks since it opened June 8.
The daily ridership crossed the half-million mark and the service recorded a 100 percent increase in commuter traffic in three weeks.
"Mumbai Metro One Pvt. Ltd. (MMOPL) created a global record by carrying over 7.5 million commuters in less than a month of its operation," a company statement said.
A subsidiary of Reliance Infrastructure Ltd, MMOPL has become the favoured choice of commuters on the 11.4 km Versova to Ghatkopar route.
"Carrying over 7.5 million commuters in less than a month is indeed an exemplary achievement by itself.
"Mumbai Metro has become a part and parcel of Mumbaikars' lives in the last three weeks. It has completely changed the dynamics of commuting in Mumbai, and has become the most commuter-friendly corridor in comparison to other congested stretches in Mumbai," the statement said.
Around 240,000 commuters travelled by the Metro on the inaugural day June 8, and from the second day, the figures grew to nearly 300,000 daily.
The weekend ridership stands between 450,000-500,000 commuters, prompting MMOPL to organise free weekend joyrides, which were enjoyed by more than 450,000 children.
MOPL - Mumbai's first and India's third Metro Rail- providing a crucial east-west link, has 12 stations on its route and has slashed travel time on that corridor to 21 minutes from the existing around 100 minutes.