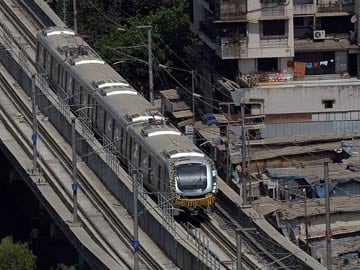 Mumbai:
After inordinate delays, the Versova-Andheri-Ghatkopar Metro Corridor has received the final safety clearance from the Railway Board which paves the way for it to opened to the public.
The order dated 5th June has been sent to the Managing Director of the Mumbai Metro One Private Limited, the consortium that is executing the project.
The metro corridor had received a clearance from the Commissioner of Railway Safety (CRS) on May 2, 2014.
The metro will provide the crucial east to west connectivity and will carry around six lakh commuters per day. The biggest advantage would be the substantial reduction in travel time from the current 90 minutes to about 20 minutes.
The frequency of trains will be 3.5 minutes, going down to 3 minutes during peak hours. Each train will have four coaches but all the stations are designed to accommodate six coach trains anticipating increase in the traffic in future.
The metro will be connected to Andheri station on the Western Railway line and Ghatkopar on Central Railway line. Western Railway and Central Railway run local trains which is the lifeline of the city. The Metro Corridor will have 12 stations.
The Centre had already allowed the operator to fix the fares, one of the issues on which the project got delayed inordinately after the Centre brought the Mumbai Metro under the Central Metro Act. When asked about a subsidy on the Metro fares Chief Minister Prithviraj Chavan said, "The consortium will take a decision on this. Earlier this was under the Tramways Act and now it has come under the Metro Act. We will take decisions as prescribed under this act."
The state government had notified a minimum fare of Rs 9 and the maximum of Rs 13 in the initial year of operations. However, RInfra has been seeking a steep revision in fares with minimum Rs 22 and maximum Rs 33, citing a near-doubling of its cost to which the state has objected.
The Metro comes after other projects like the new terminal at the airport, the Sahar Elevated Road, the Santa Cruz-Chembur Link Road and the Eastern Freeway.