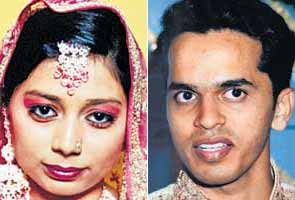 Mumbai:
An engineer of a reputed firm in Mumbai is reportedly absconding after his wife committed suicide by hanging herself.
Though the police had initially registered a case of suicide, the post-mortem report has revealed signs of struggle and other internal injuries on the body.
Juhi Nakawa (23) and her husband Altamash (28) were having difficulties in their marriage, said Juhi's mother
The victim, Juhi (23), married Altamash Nakawa (28), last year. Just a month before her first marriage anniversary, she ended her life, reportedly unable to endure the alleged torment that her in-laws and husband were inflicting upon her.
Juhi was found hanging from the ceiling in her apartment at MIG colony, Kurla, by her in-laws.
The police, till now, have arrested Juhi's father-in-law, Zakaria, and her brother-in-law, Faizan.
They are yet to trace her husband Altamash, her sister-in-law Nadia and her mother-in-law Hasmat, who are all absconding.
According to Farzana Khatib, the victim's mother, Juhi had spoken to her a day before her death.
"Ever since my daughter got married into the Nakawa family, she was being harassed and tortured for dowry.
She called me on the very day she committed suicide. She said that she was being battered so badly by her husband that she no longer wished to stay with him. But I persuaded her to give the marriage some more time.
I was naive enough to think that the situation would improve. If I had not disregarded her pleas that day, my daughter could have still been alive."
She went on to say, "The very next day I got a call from her in-laws saying that she had committed suicide. In our initial shock, we were convinced that someone was playing a cruel prank on us. They called a second time, but we were still incredulous. It was only on the next day, when we went to her house, that we realised that she was gone forever."
S B Donde, police sub-inspector at Vinoba Bhave nagar police station, said, "The husband, his sister and mother have been absconding since the day after the incident. The post mortem reveals that there was a struggle before she hanged herself. She had also sustained some internal injury. These findings indicate that it is a case of murder, and we shall soon book all the five accused persons with appropriate charges."
The three arrested members of the family are in police custody till today.