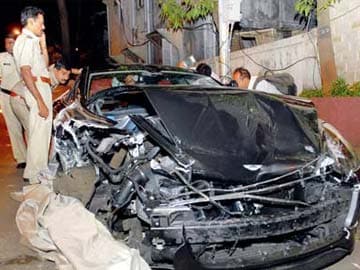 Mumbai:
A search is on for the unidentified driver of the out-of-control luxury car that banged into two other vehicles and resulted in a pile-up of expensive cars at Pedder Road in the wee hours of Sunday.
The Gamdevi police, investigating into the late-night road accident involving an Aston Martin Rapide, are gathering CCTV footage to get leads on who was driving the vehicle. Police have also written to Reliance Ports, the company that owns the car worth Rs 4 crore, to find out who it had been deputed to.
"We are still in the process of gathering evidence, so that no counter allegations are made later," said Nisar Tamboli, deputy commissioner of police (Zone II). MiD DAY had reported yesterday ('Aston Martin in Rs 4.5-cr pile-up on Pedder Road', December 9) about how the driver had lost control of the sports vehicle and had driven into the back of an Audi and then a Hyundai Elantra.
Due to its high speed, the tyre of the car in question had detached, after which its driver had fled in another car that was trailing the Aston Martin. Eyewitnesses had seen the driver escape from the spot. Police have so far recorded the statements of several people, including Vikram Mishra, whose Hyundai Elantra was also damaged in the accident.

Copspeak
"We are in the process of collecting CCTV footage from all the areas on Pedder Road. A car showroom and a bank have CCTV cameras facing on the road. We have also written to the company to find out whom was the car allotted to," said Sandeep Bagadikar, police inspector at Gamdevi police station.
Reliance Ports had claimed that a driver on company payroll had been in the super luxury car. They said that the man had been sent to the police to aid in investigations. Confirming this, Reliance Industries spokesperson Tushar Pania said, "Bansi Joshi, one of our drivers, was driving the car. He has given his statement to the Gamdevi police." However, the cops have refused to arrest him, reasoning that an arrest would be made only after collected evidence ascertained Joshi's involvement in the case.