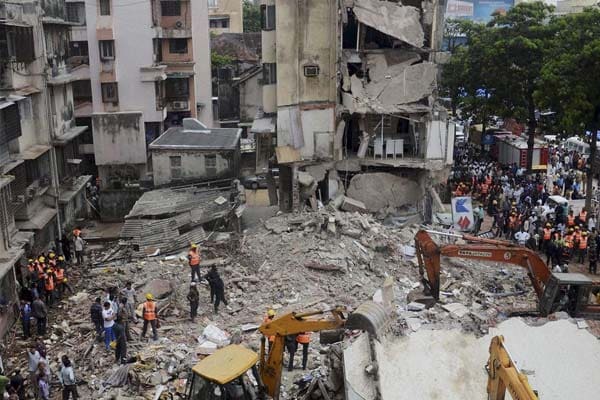 Mumbai:
After 24 hours, search and rescue operations at Mumbai's Altaf Manzil have been called off. Over this period, 10 lives were lost and five people are injured, recovering in hospitals.
The five-storey building came crashing down on Monday evening after heavy rains in the city. Teams from the Disaster Control Department of the Brihanmumbai Municipal Corporation (BMC), Mumbai Fire Brigade and the National Disaster Response Force were called in soon after.
(Watch: Mumbai building collapse - the day after)
The building housed the residence of noted criminal lawyer Rizwan Merchant. While Merchant's daughter and elder son survived, his younger son, wife and mother died. Their bodies were retrieved today from the debris.
24-year-old law student Gaylen Bowen considers himself lucky. He and his family missed death by a few minutes. They were out for dinner and were delayed in getting back home. "I am glad to have survived. I was convinced to stay on and have dinner with my family instead of coming back early to sleep. I feel very sad for those who couldn't make it through. It really breaks my heart that I grew up in this same building and now it's collapsed. I would like to thank the stars I am alive today because god knows how would I made it through had I come just 10 minutes when building collapsed," Gaylen told NDTV.
The civic body has declared 946 building in the city unsafe, after a pre-monsoon survey of dilapidated buildings. But it is at a loss to explain how a building that was not even on the list collapsed. Mayor Sunil Prabhu said "We will ascertain the cause of the collapse later. Saving lives is our top most priority." Locals claim that the collapse could have been caused due to an illegal construction in the lower floor of the building. However top sources in the BMC said, they weren't aware of any complaint against any illegal construction.
With the monsoons just starting, Mumbaikars are hoping that the season will pass off without any more tragedies. Meanwhile, Mahim, an area famous for its fresh kebabs is now in a shroud of gloom.