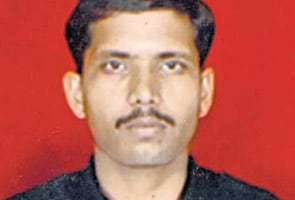 Mumbai:
In the rigorous modules that train them for urban warfare and strategic counter-attacks, commandos of the National Security Guard, country's elite task force, might as well have been given a crash course on household chores.
This is what the formidably skilled personnel were allegedly made to do at the behest of those higher-up in the chain of command.
As was revealed by an NSG commando's complaint, he and others like him are made to shine their senior's shoes, wash his laundry, and run sundry errands.
In a letter to the Director General of the NSG in New Delhi, dated January 11, 2011 (copy with MiD DAY), Om Prakash Shukla complained that his senior Major Mohammed Israil of Marol unit, treats him and many of his colleagues as slaves.
Speaking to MiD DAY, Shukla said, "I became a commando to fight for my country, not be a slave to my senior. I won't clean his shoes or wash his wife's clothes. I am a vegetarian and cannot get non-vegetarian food for him from the market. So I refused to work as his orderly."
A Border Security Force personnel who joined the Guard in 2009, Shukla was posted to Mumbai in March 2010.
Earlier in the month, he went to New Delhi to file the complaint. The letter mentions the alleged slights and atrocities that Major Israil inflicted on his juniors.
Shukla said that since he did not want to be dictated terms, he defied the Major, and is now the focus of the other's undeserved retribution.
According to the complaint, in April, a commando working as an orderly for Israil took ill, and Shukla was asked to take over.
"The Major wanted me to toe his line just like the previous orderly. But I resisted him. Since then, he has been harassing me. He finds faults in whatever I do," Shukla said.
Citing an instance, Shukla said, "When I asked for leave, he refused it, saying that another commando wants one as well, and that there would be a toss to decide who gets to go. This is not fair as I am entitled to taking a leave."
Allegedly, the Major also said that Shukla should be fired, as he doesn't fit the bill of a commando, and that for the salary he draws, four men could be hired instead; he also threatened to file a chargesheet against Shukla, if he continues with his insubordination.
Shukla alleges that the officer forced him to wash his wife's laundry and perform other household chores
Standing firm, Shukla said, "I would have been left carrying his wife's laundry in one hand and his children's school bags in the other (had I not spoken out). I would have had to polish his shoes. I have been harassed for almost a year and now want to put an end to this. I want him to be punished as he has made many suffer."
Shukla has given a copy of the complaint to the Patrakar Vikas Sangh in Mumbai.
The president of the Sangh, Anand Mishra, said, "He has given us a complaint letter and we will be bringing up the matter with the NSG head and the government. This is a serious issue. It is unacceptable that a commando, who helped us during Mumbai attacks, is made to do such odd jobs."
Major Mohammad Ismail, the B-team commander against whom Shukla has made the allegations, said, "Shukla keeps on asking for leave and it is not possible for me to grant it every now and then. So he is making baseless allegations against me. I never make anyone polish my shoes or do my household work. This is all false."
Get Breaking news, live coverage, and Latest News from India and around the world on NDTV.com. Catch all the Live TV action on NDTV 24x7 and NDTV India. Like us on Facebook or follow us on Twitter and Instagram for latest news and live news updates.