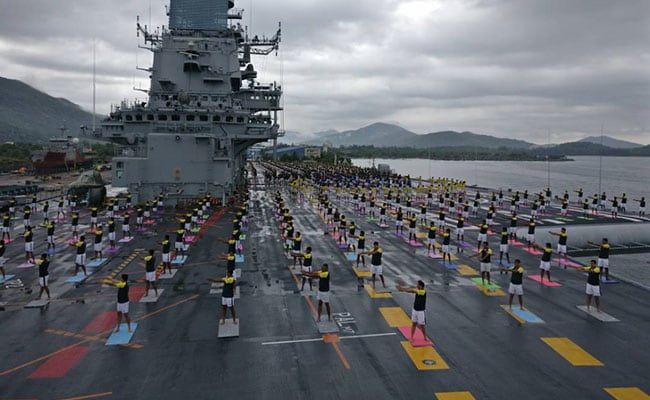 Mumbai:
Celebrities and commoners in Mumbai on Wednesday observed the third International Yoga Day, which coincides with the Summer Solstice -- the longest day in the Northern Hemisphere -- on land, water and under water.
Maharashtra Chief Minister Devendra Fadnavis, accompanied by his wife Amruta and other celebrities, led the state in the event at Worli, kicking off similar well-attended events across Mumbai, suburbs and in all major cities and districts.
Seaside #Yoga organised by @MumbaiPolice , Spandan Arts with MP @poonam_mahajan & MLA @ShelarAshish in Mumbai.#YogaDay2017pic.twitter.com/ytYyMQtv9p

— Devendra Fadnavis (@Dev_Fadnavis) June 21, 2017
Bollywood actors, including Jackie Shroff, Arbaaz Khan and Malaika Arora Khan, stretched themselves on yoga mats for several yogic exercises.
Yoga enthusiasts at #InternationalDayofYoga2017 in heart of #Mumbai#MarineDrive@narendramodi@AmitShahpic.twitter.com/IkBJSJmhMt

— ShainaNC (@ShainaNC) June 21, 2017
Over 10,000 naval personnel and their families and Indian Army officers took part in the celebrations aboard ships and special yoga camps in the military areas of the city.
"People participated enthusiastically and did yoga on the decommissioned aircraft carrier, (INS) Viraat, 15 other warships and even underwater in submarines," Defence Ministry spokesperson Rahul Sinha told IANS.
Yoga teachers from the Brahmakumaris and Kaivalyadham institute trained staffers at the Raj Bhavan and officers and staff accompanied by their families in yoga.
Lakhs of students started the day on a healthy note by doing yoga to the instructions of their PT masters in thousands of schools and colleges across Mumbai and in the rest of Maharashtra.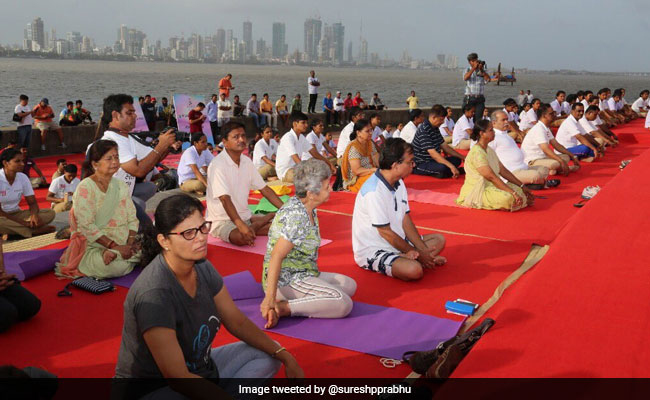 The ISKCON Chowpatty, Mumbai's famed dabbawalas, state and central government employees, state and city police departments, private companies, hotels, beach and hill resorts, mega-housing complexes and other venues thronged with yoga buffs on Wednesday.
Some private groups also offered novelties with themes of yoga for peace, adventures, for power, happiness, self-development and wellness to lure the masses to tourist spots.