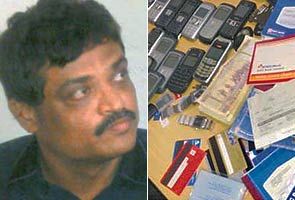 Mumbai:
An Andheri-based 'friendship club', a well-known euphemism for prostitution rackets, was raided on Monday and the owner arrested by the Mumbai Police Commissioner's Special Squad after they received several complaints of him cheating customers. Prasad Patkar (42) allegedly ran the prostitution racket under the guise of a friendship club out of a ground floor flat of a building near Navrang Cinema at JP Road, Andheri (West). Senior Inspector Rakesh Sharma of the Special Squad said more than 200 portfolios of small-time models, 21 mobile phones, laptops, television sets, several pan cards, cheque books and credit cards were recovered from him.
Sharma said Patkar had cheated customers out of lakhs of rupees by luring them into paying membership fees and refundable deposits to meet and date the models. He said they had been trying to trace Patkar for nearly a month.
Explaining the modus operandi, Sharma said, "Patkar had been running the racket for close to three years. He would publish advertisements under the head of a friendship club in newspapers and ask people to call certain numbers in order to meet and date attractive women. The calls would be answered by a receptionist in the 'office' who would tell the potential customers that they would need to pay Rs 6,000 to become members."
"Once the membership fee was paid, they would show people the photographs of some models and college girls and then make them pay another Rs 5,000 or so as a refundable deposit to get their numbers. After the money was paid, they would stop answering the calls of the customers. "Persistent callers would be given numbers of some women who would say that they have also paid a membership fee to the club and would charge between Rs 5,000-20,000 an hour for sex," added Sharma.
Sharma said that they had handed Patkar over to the D N Nagar police, who would also investigate whether he was shooting pornographic films in the flat as cameras and CDs of such films were recovered from him. Patkar has been charged with cheating and for running a prostitution racket. Residents of the building from which Patkar was running the racket said they never suspected anything amiss. "There was a board put up beside the flat which said it housed a doctor's clinic. We had no clue that a prostitution racket was being run from here," said a resident on condition of anonymity.