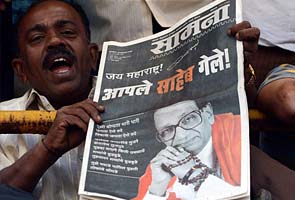 Mumbai:
The late Shiv Sena chief Bal Thackeray's favourite newspapers Saamna (in Marathi) and Dopahar Ka Saamna (in Hindi) sported black front pages as a mark of mourning for the second consecutive day on Monday.
Thackeray, who died on Saturday, was founder-editor of both the newspapers. However, day-to-day affairs were managed by his hand-picked and trusted executive editors.
This is the first time in Saamna's history since its launch Jan 23, 1988, that its two main cover pages were printed in sheer black two days in a row.
On the jacket cover is a large picture of Bal Thackeray waving adieu to the people with a huge headline in Marathi: "World witnesses Shiv Sena chief's power and Shiv Sainiks' devotion", and a small accompanying story with a big picture of the crowd outside Shiv Sena Bhavan on Sunday, during the funeral.
The inside main cover has a flier headline: "Storm subsides in the lap of Shivtirth", referring to the public cremation held at Shivaji Park in south-central Mumbai on Sunday.
This was an apparent a continuation of Sunday's headline: "A storm called Balasaheb is peaceful," and accompanied by a collage of pictures showing the unprecedented turnout for the funeral, a serene image of Bal Thackeray covered by the Indian flag, the gun salute, and the body consigned to flames.
The Hindi daily eveninger, Dopahar Ka Saamna, carried on Monday a full black background, shows a grieving Mr Uddhav performing the funeral rites (with the earthen pot on his left shoulder), in the backdrop of the flames leaping from his father's funeral pyre.
The headline reads: "Volcano goes down in flames."
Saamna was founded as a party organ to convey Thackeray's views to the Marathi masses directly.
Dopahar Ka Saamna was launched on Feb 23, 1993 to woo north Indians settled in Maharashtra and also make Thackeray's voice and views heard in the national capital.
Over the years, Thackeray had mastered the art of using the two newspapers' columns -- stern leaders, acidic edits, rare signed edits or statements and an occasional personalised edit -- through which he spared none, be they relatives, friends or foes.
Besides, there were his annual interviews, running into several instalments, spread over two to four days in the newspapers. In his lifetime, Thackeray rarely spoke to mainstream media, and abhorred the English media.
Two days after his demise, Thackeray's name continued to appear as Editor in its regular place, just as it has been since the launch of the newspapers.