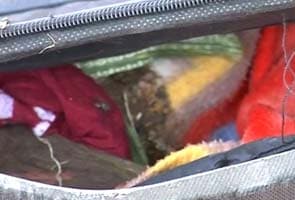 Mumbai:
The Mumbai Police is trying to identify a young woman whose dead body was found packed into a suitcase on Juhu Beach.
The police believes that she was killed in the last 24 hours, and that she is in her early 30s.
Her hands and feet were tied together. A piece of rope was found in the suitcase, and her neck shows injuries that suggest she was strangled. She also has cuts and bruises on her face.
She was dressed in a shirt and a skirt, and was not wearing any jewelry.
The body has been sent for post-mortem to a hospital close by. The police is also checking on reports of people who have gone missing lately to see if they can find a match.
The suitcase was discovered this morning on an isolated part of Juhu Beach that borders the Juhu fishing colony, far from the strip that's popular with tourists and often features in Bollywood films. A man who works at a scrap-yard in the area found the suitcase and pried it open.