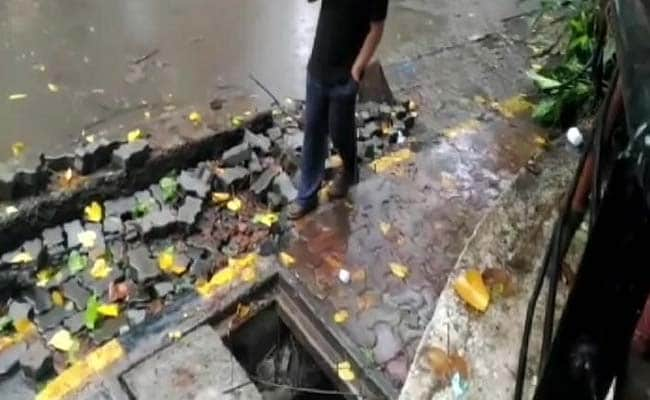 Mumbai:
Just days after monsoon struck Mumbai, two people have already lost their lives. A seven-year-old boy was washed away after slipping into an open gutter on Saturday night in Mulund and the very next day, a 70-year-old woman drowned after falling into a manhole in Bhandup, that has now been shut by the civic body BMC.
Even though the monsoons hit Mumbai on June 20, that is 10 days late, according to the Met department, Mumbai has recorded 422.1 mm of rain in June, against its monthly average of 523.1 mm. The Brihanmumbai Municipal Corporation (BMC) is cautioning people to take precautions around high drains even as they try to ensure waterlogging is minimal.
"It has been raining for 10 days now, in these 10 days, the municipality has taken steps to ensure that waterlogging is minimized and the citizens are least inconvenienced," said Deputy Municipal Commissioner of the BMC, Sudhir Naik.
This year, there has barely been any waterlogging on the streets due to the rain so far. The BMC has installed 290 water pumps across the city and six 6,600 KVK volt pumps have been installed in pumping stations, whose capacity is 6,000 litres per second per pump, adding up to 36,000 litres per second. That is the amount of excess water that can be drained into the sea per second.
"The rains are good for our economy, we need it to rain this year more than it rained last year. Even if we have commuting problems, we will tolerate it if that means we don't have water supply problems next year," said Pallavi, a resident of Central Mumbai.
But despite the heavy rains, current water level in catchment areas in Mumbai has been recorded low when compared to last year. The seven reservoirs that supply water to the city have recorded to contain 1,00,829 MLD water as of June 27, 2016. This is much less than the 3,38,906 MLD recorded in June 2015. Mumbai requires 14.47 lakh MLD of water in its lakes to receive water supply throughout the year.