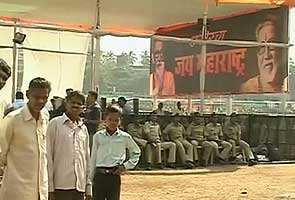 Mumbai:
The controversy surrounding the temporary structure on which former Shiv Sena chief Bal Thackeray was cremated at Shivaji Park in Mumbai has intensified.
The Shiv Sena is treating the structure as a
Samadhi Sthal
(memorial) of Mr Thackeray and has refused to vacate the space inside the sprawling ground. The Brihanmumbai Municipal Corporation (BMC), the civic body that governs Mumbai, has objected to this, terming it as illegal. Interestingly, BMC is currently being run by the Shiv Sena-BJP combine which is the principal Opposition in Maharashtra.
The civic authorities have now served a notice to the city's Mayor, Sunil Prabhu, a Sena leader, as also party MP Sanjay Raut to remove the structure as soon as possible.
The notice points out that while permission for the structure, which the duo had sought, was granted only for a day - November 18 - for Mr Thackeray's funeral, it had still not been removed even after two weeks. The letter also says that an unauthorised pedestal has been erected on the ground and the area around it area has been barricaded illegally. A
mandap
too has been built there in violation of the five conditions that were set by the BMC initially, the notice adds.
"The purpose for which the site was alloted (for Thackeray's cremation) is over. Therefore, we have asked both Prabhu and Raut to remove the structure immediately or face legal consequences," Municipal Commissioner Sitaram Kunte told PTI.
Last week, Mr Raut had said that the site of Mr Thackeray's cremation was like a "temple" for Shiv Sainiks, and while he insisted that they weren't terming it a memorial, he made it clear that the structure would not be dismantled. "It is like a temple for us and we won't remove the structure that has come up at the cremation site...We are not calling it a memorial. But we want the memorial at the Shivaji Park," he had said.
Mr Raut had also asked the government and court to refrain from intervening in the issue.
His remarks were in response to Chief Minister Prithviraj Chavan who had earlier said that nothing would be done in violation of the law with regard to the Shiv Sena's demand for a memorial for Mr Thackeray. His party, the Congress, contends that the ground in central Mumbai already has a memorial dedicated to Maratha warrior king Chhatrapati Shivaji Maharaj. "As there is already one memorial in place, there should be no other memorial there," state Congress president Manikrao Thakre had said last week.
Senior Shiv Sena leader Manohar Joshi had first made the demand for a memorial of Mr Thackeray at Shivaji Park, soon after the latter was cremated on November 18. The 86-year-old leader died a day before at his residence, Matoshree, following a prolonged illness. The Sena patriarch had addressed massive rallies at the famous ground on Dussehra for the last 40 years.

(With PTI inputs)