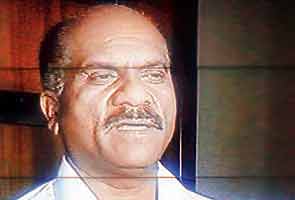 Mumbai:
Once again, the iron-fisted rule of 56-year-old Assistant Commissioner of Police Vasant Dhoble has created a stir. The Social Service cop, feared by bar owners and sex racketeers because of his unforgiving raids, allegedly thrashed a suburban restaurant manager and threatened his staff with a hockey stick last month. He was caught on camera dispensing such quick 'justice'.
(Video courtesy: mid-day.com)
On the night of April 15, Dhoble, whose photograph is reportedly a must-carry for flesh trade operators so they can spot him and run ('Sex traders want to memorise this face', April 2, MiD DAY), arrived at Amar Juice Centre in Vile Parle with 8-10 men in tow - all were in civilian dressing - and allegedly assaulted the manager Manjunath Poojari and his staff during peak business hours in front of the clientele. Disturbed by the sheer dread that Dhoble has inspired in his staff, Joshi has written to Home Minister RR Patil, seeking immediate suspension of the cop (copy of complaint with MiD DAY). The restaurant has also sent a copy of the CCTV footage capturing the incident to the minister. A copy of the video is also available with this paper and can be viewed at mid-day.com.
Tushar Joshi, owner of the fast food joint, describes the horror of that night. "At 9.52 pm on April 15, ACP Vasant Dhoble accompanied by 8-10 persons entered the restaurant and started beating the staff with hockey stick. He entered the kitchen area and pounded the cooks and other workers. Terrorised, they ran for their lives, leaving the cooking gas burning and the food items as it is behind them. He pulled the manager out and battered him without giving any reason. Since he was not wearing his uniform and was dressed in a T-shirt and a pair of jeans, our staff could not recognise him. For a whole minute, everybody froze - the staff and the guests, shocked at the ruthlessness, could not react. He has created a fear in the minds of the staff. One of my staffers was so petrified that he ran on the road blindly and narrowly missed a speeding vehicle."
Unprovoked act
Joshi said, "Ours is purely a vegetarian restaurant. We don't even serve alcohol at our eatery. We have all our licences in place. The cop has no right to treat us in this manner." Suspecting that the police station nearby would not lodge a complaint against Dhoble, Joshi wrote to the home minister and the commissioner, describing the "violently thoughtless" act while supplying evidence to back his claims.
Joshi said, "We did not complain to the nearby police station because we knew that cops would not register any complaint against their own. We had no choice but to write to the commissioner and the home minister. We need answers as to whether any cop has the authority to create terror among people by using hockey sticks and raiding a place in civil dress." He is now waiting for a reply and for action against the cop. "We will have to go the legal way if this incident is not taken seriously by the government. It could have cost someone's life. Time and again, we have faced this problem but for the first time we were able to catch the activity on camera," he added.
In an earlier incident reported by MiD DAY, in December 2011, Dhoble allegedly hit the 64-year-old owner of Bandra's Moghul Sarai restaurant on his ear, after which the owner collapsed and damaged his ear. The owner, Yusuf Ghulamnabi Bhure, has now moved court, seeking justice for the gruesome act. His son, Shakil, said, "If we are running a business illegally or do not have the required licences, cops have all the authority to shut our establishment or fine us. But who has given them the power to hit people? Dhoble's acts are not just violent, but also embarrassing, as there are times when he hits shop owners in front of patrons. If he wants to take action, he can ask us to shut down. He should not be allowed to embarrass the owners by publicly beating them. They are not terrorists or hardened criminals to deserve this." About the court case, he added, "We will fight it till the end."

Fact file
Name: Vasant Dhoble
Age: 56
Designation: Assistant Commissioner of Police, Social Service (SS) Branch
Previous posting: Vidhan Sabha security
Member: Police commissioner's special squad
Track record
Suspended (1989): for taking bribe in Pune
Sentenced (1994): to 7 yrs imprisonment
Fined Rs 1 lakh for custodial death of Abdul Gaffer Khan after alleged torture (Jail term overthrown by HC in 1996)
Dismissed (1994): for Khan's custodial death (reinstated in 1996)
Pending: Departmental enquiry for Khan's death after SC order
Responsible for: Misplacing 12 dossiers related to gangster Dawood Ibrahim
The other side
In his defence, Dhoble said, "The restaurant owner was found flouting the norms. They were found running their food joint on the road, creating traffic problems for commuters. Even after frequent warnings, they still continued breaching the rules. So we called the nearest police station and got the manager arrested. We have not threatened anyone."
Said Nisar Tamboli, PRO, Mumbai police, "The troubled party can bring this to our notice or that of the police commissioner's. We will definitely take action if we find any violation of law."

Legally speaking
Criminal lawyer Arfan Sait said, "No law permits a police officer to use hockey sticks or beat anyone. The place that was raided by the police was just a juice centre and not a bar. The police are expected to be in uniform and not civilian clothes. The most the cop could have done in the way of exercising his power was to seize the tables and chairs, or ask the manager to shut the eatery. Beating anyone is simply unjusitifed."
Lawyer Rizwan Merchant, who is representing Bhure who tore his eardrum after Dhoble slapped him, said, "No police officer is permitted to use hockey sticks while he raids a place. Also, one needs to be in uniform. It is unfortunate that the man who was booked for a custodial death is let loose, and given so much power that he can manhandle anyone and everyone."