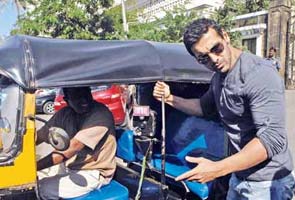 Mumbai:
It doesn't matter whether you are a star or a commoner; one cannot escape refusals from the city's autorickshaw drivers. And their latest victim was Bollywood actor John Abraham. He was refused a fare from his residence at Bandstand to Taj Lands End.
When John asked the reason for refusal, auto driver A Sharma said that it was an extremely short distance fare and could be easily covered on foot. "I prefer plying a short distance fare only when I have time," said Sharma.
Thanking MiD DAY and Mumbai Traffic Police, John Abraham, who was the face of MiD DAY's Meter Down campaign since its inception on October 12, 2011, said, "Being brought up in a middle-class family, I have commuted via rickshaws, buses and trains. So I know the kind of problems commuters face when autos refuse to ply," said John.
He further stated that on several occasions when his mother -- who has difficulty in walking due to a knee ailment -- is refused by an auto to go to the nearby market he has to use his celebrity status to get the job done. Meanwhile, the traffic officials deployed at Bandstand, urged people to come forward and complain against those errant auto and taxi drivers who refuse fares.
Commenting on the refusals faced by commuters, Additional Commissioner of Police (Traffic) Brijesh Singh, said, "If a meter is kept on hire, then the commuters must directly board the vehicle. If the commuters follow this and stop asking the drivers before boarding their auto or taxi, the problem of refusal will not arise."
Remember this
If an auto meter is kept on hire, it implies that the driver is ready to ply you irrespective of your destination. If the meter is half-down and yet the driver stops by to ask you for a fare, he has to ply whether it's a short or a long distance fare. If he still snubs you, he can be booked for refusal
If the driver refuses to ply you citing that his vehicle is running low on gas, then check the gas meter to verify his claims
In case of refusal, call up the traffic police helpline: 24937755 and report the location of the rickshaw/taxi and the vehicle registration number