Mumbai:
Mumbai University seems to be losing its sheen. Not only its recently introduced online assessment system was
chaotic for students
, a visit to the campus shows how its existing infrastructure too seems to be neglected and is falling apart.
At Kalina campus of Mumbai University, NDTV found several instances of falling slabs and a lack of maintenance and upkeep making buildings unsafe for students to use.
The three-storey Jawaharlal Nehru Library, built in the seventies, at Kalina campus seems normal from outside but the building's second floor tells another story. Falling slabs makes the entire floor unsafe, leaving only the ground floor for use. An auditorium in the same building has also suffered the same fate and not been used for two years.
A teachers' training academy was inaugurated in 2015, but the building hasn't received clearances to start functioning yet. Surprisingly, there are repairs taking place inside a building that hasn't even been used.
Another structure, meant to house the department of linguistics, resembles an abandoned building. Completed in 2011, this too lies unused. Elections to the senate of the university, a body that could have raised these issues, haven't been held for two years.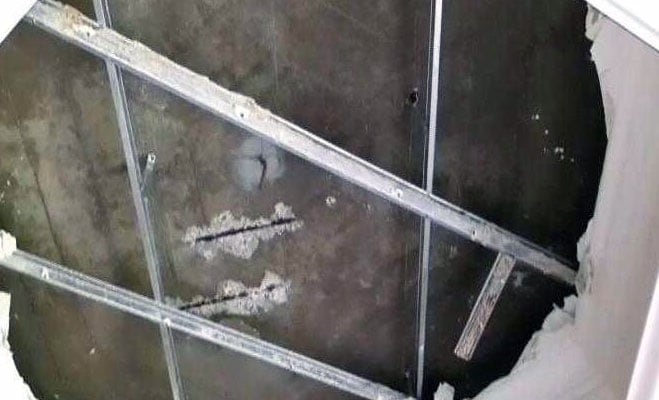 The government blames the university administration and says steps to rectify the problems will be taken soon. "I have held at least three to four meetings on this issue. You spoke about the library and other issues. We will rectify all of this as it is our responsibility," Ravindra Waikar, Minister of State for Education in Maharashtra, told NDTV.
The university is also slow when it comes to hiring faculty, as data shows. Figures published in an internal document show the university has 86 sanctioned posts for professors but only 35 are available at the moment, while 51 posts are vacant. It has sanctioned 279 assistant professors' posts but only 170 have been hired. At least 109 posts are still vacant.
"If you have to appoint quality teachers you have to pay them according to the Sixth Pay Commission. And if you pay them according to the Sixth Pay Commission, you have to increase the fees. We are trying to carve out a middle path," Additional Registrar Dinesh Kamble told NDTV.