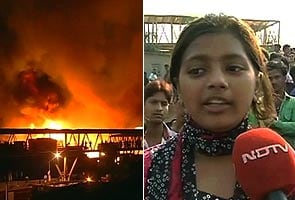 Mumbai:
Grieving over the loss of her Oscar memorabilia, "Slumdog Millionaire" child actor Rubina Ali Saturday said she lost all her good memories to a slum fire.
Rubina's hut was burnt down in a massive fire that raged through Gareeb Nagar, a congested slum close to the suburban Bandra railway station in Mumbai, Friday night.
Over 2,000 homes were destroyed in the fire that raged through the night and was put out early Saturday morning.
"I lost all the books, wooden toys, photographs and awards that I received for the film," she said in a choked voice.
"I had kept all the newspaper clippings that reminded me of how I became famous after 'Slumdog Millionaire'. Now everything is gone," she said.
Rubina, who was only eight when she played the part of young Latika in director Danny Boyle's movie, was watching TV when she heard the commotion.
"Soon, a neighbour came to alert us about the fire. We all rushed out after taking only the basic belongings. There was no time to take anything else," said Rafique, Rubina's father.
"I spent the entire night near the railway station with some people and have just returned to this spot. I don't even know where the rest of my family members are," Rubina said.
Her family has been given a flat by the Jai Ho trust set up by Boyle.
"But it will still take us a month to move there," Rafique said.
"Had we moved in there earlier, we would not have had to see this day," he lamented.
Rafique mentioned that an official from Jai Ho trust telephoned him and asked him about the family's well-being.
"A lady called Neerja called me and asked me if my family and I are safe. The trust officials will visit us later," he said.
Rafique, however took solace from the fact that nobody from his family was hurt and that everyone is safe.
"But I am still sad that my daughter lost her most cherished mementos. She even lost all her expensive clothes that she wore for the Oscar award function," he said.
"Slumdog Millionaire" won eight Oscar awards in 2009, including two for music director A.R. Rahman.