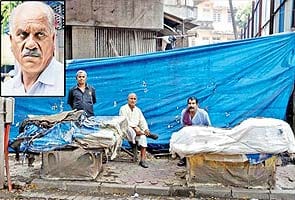 Mumbai:
Based on the recent complaint filed by Dayashankar Singh-led Azad Hawkers Union (AHU), it seems that Vasant Dhoble, Assistant Commissioner of Police (ACP) for Vakola division, lacks respect for Prime Minister Dr Manmohan Singh's request.
In its complaint letter (copy available with MiD DAY), the AHU accused Dhoble of harassing and thrashing vegetable vendors in Vakola, Santacruz and Vile Parle. The letter was sent to several police top cops, including Commissioner of Police Dr Satyapal Singh, on October 8.
Along with the complaint letter, the AHU attached a letter written by Prime Minister Dr Manmohan Singh on August 4, 2009, to all chief ministers requesting them to protect the rights of hawkers. The letter also points out the national policy framed by the Centre as per the Supreme Court's directive.
The AHU accused Dhoble of assaulting vendors with hockey sticks and throwing their vegetables on the road. The letter even stated that Dhoble was penalising vendors Rs 1,200, fearing which the vendors and hawkers shut their businesses.
Dayashankar Singh said, "As per rules, a notice should be issued seven days before taking any action. But Dhoble is not following any of the rules. He is thrashing and abusing vendors, and throwing their vegetables on the street."
Some of the hawkers said police officials from Vakola, Santacruz and Vile Parle were using Dhoble's name to extort money from them.
"Mujhe paisa do, nahinto Dhoble aayega aur 1,200 charge marega (Pay me, or else Dhoble will come and fine you Rs 1,200)," said a hawker.
Salma Shaikh, general secretary of AHU, said the national policy clearly states that hawkers have the right to do business on footpaths.
"Unfortunately, Dhoble thinks footpaths are only for pedestrians and has a wrong notion about fundamental rights of hawkers," said Shaikh.
"I am not aware about the PM's letter or the national policy. Let me see the letter first," said Namdev Chavhan, DCP (Zone VIII).
Despite repeated attempts, Dhoble remained unreachable.